The first Soviet mass-produced folding plate camera "EFTE", later called "EFTE-1",(in the terminology of those years – "universal" type), produced by the artel "Phototrud"; had a format of 9×12 cm and a single fur stretching. The front plate had no vertical and horizontal offsets for decentering the lens. In the cassette part of the case there is a sliding frame with frosted glass or a standard cassette.
The first 25 cameras were produced by the end of 1929; were supplied with German lenses (Kengot anastigmat 1: 6.3, 13.5 cm) and a VARIO shutter with shutter speeds of 1/25, 1/50, 1/100 sec, "B" and "T" (thanks to this shutter speed it was possible to aim for sharpness on frosted glass).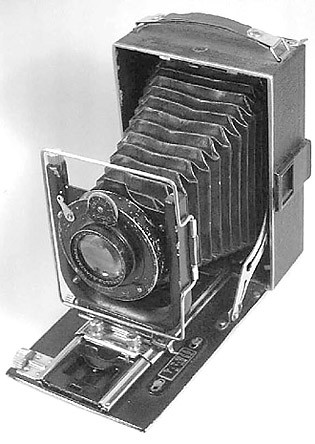 The viewfinder is folding frame. Later, the cameras were equipped with the domestic lens "Periscope" 1: 12/150. Since 1931, the GOMZ shutter (EFTE-2 – 1931) appeared on the cameras. Thus, the EFTE-2 Camera is the first Soviet camera completely assembled in the USSR from its own components.
Later (1933) the camera was called "ARFO" and was equipped with a 4.5 / 135 lens. The central shutter had the same shutter speeds, and the camera got a lens decentering device and a double stretch mech. Simplified models were also produced: "ARFO-2" – without a device for lens decentering and single fur stretching; "ARFO-2a" – the same as the previous model, but with the "ARFO" 6.3 / 135 (6.3, 8, 11, 16, 22, 32) lens.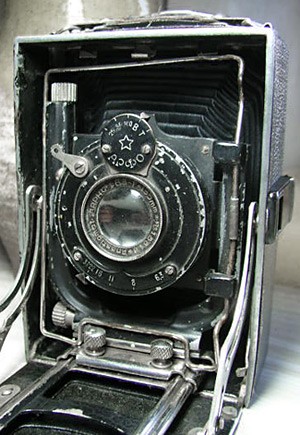 Source – http://www.photohistory.ru