MTO  is a family of mirror-lens telephoto lenses of the system of Professor D. D. Maksutov with a high degree of tele-shortening. Due to multiple reflection of light inside the lens, the length of its barrel is several times shorter than the focal length.
The main application of the lenses of the MTO family is astro photography, photographing distant objects, birds, animals (photo hunting).
About MTO lens series
Produced at the Krasnogorsk Mechanical Plant and at the Lytkarino Optical Glass Plant. Lenses of this family are intended for use as interchangeable lenses for small format single-lens reflex cameras.
Lenses with the letter "A" in the name – with a replaceable A-adapter (shank). Lens "MTO-11" without the letter "A" in the name, however, also has a replaceable shank A-adapter. After installing the appropriate A-adapter, the lens can be attached to cameras with various connections with full preservation of the flange focal distance and focus at infinity. (M42 × 1, M39 × 1 / 45.2, N mount (Kiev-17, Kiev-19, Kiev-20), K mount) and others. In addition, without changing the "A" adapter shank, it remains possible to use the lens through the corresponding M42 adapter on almost any cameras (except for medium and large formats).
Lenses with the letters "MC" in the name – with multilayer coated optics.
They have a threaded socket for mounting on a tripod. Lenses with focal lengths from 350 to 1100 mm were and are being produced (for 2008).
The MTO lenses were developed in the later released lenses ZM and Rubinar.
The appearance of a relatively cheap-to-manufacture catadioptric scheme with a corrective meniscus, developed in 1941 by D. D. Maksutov for telescopes, made it possible to create telephoto lenses of an original design, consisting of lenses and mirrors deposited on a spherical surface. This lens was called the Maksutov system meniscus telephoto lens. The abbreviation "MTO", denoting the most famous series of such lenses, stands for "Meniscus telephoto lens", or "Maksutova telephoto lens".
Lenses have a constant aperture, f-number, and aperture. They have an additional tubular diaphragm hood made in the form of a fixed cone. Produced with relative apertures 1: 8 for " MTO-500 ", 1:10 for "MTO-1000", and "MTO-11", and 1: 5.6 "MTO-350".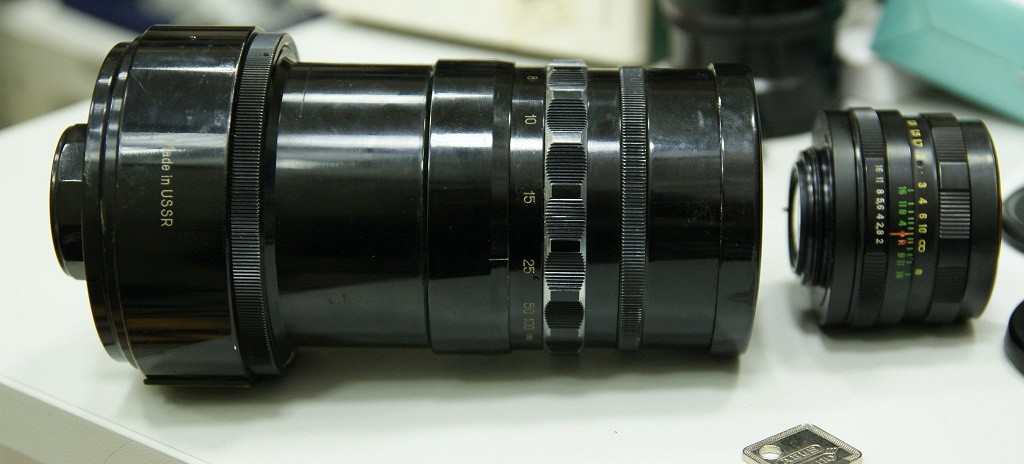 Installation on modern digital cameras (SLR or mirrorless cameras with interchangeable lenses) is possible using appropriate adapters (for example, M42 × 1 – K mount or M42 × 1 – NX mount). Installation is often complicated by the presence on the camera of the built-in flash that is very protruding forward, which rests against a large-diameter frame. The situation can be corrected by using short (up to 7 mm) extension rings. Focusing the lens to "infinity" in this case is possible due to the fact that the focusing ring has some "overtravel".
Due to the optical design of a mirror-lens objective, only a part of the front lens (ring) works for MTO lenses, because its central part is covered by a secondary mirror. Because of this, the energy diagram of the scattering spot has a falloff in the center, and, as a consequence, unsharp point light sources will be displayed in the form of rings.
MTO lenses
MTO-350

MTO OB-107

MTOM-500

MTO-500A

MTO-1000

MTO-1000A

MTO-1000AM

MS MTO-11

MS MTO-11SA
Using lenses "MTO" on modern cameras
To work on digital SLRs you need a lens-to-camera adapter. The easiest way is to install MTO with М42х1 thread on Canon EF (-s). MTO with M39 thread without alterations will fit on all small format cameras (ff, crop) through the appropriate adapter. By ordering things from the links below, you help the project cover the costs of site maintenance and development. List of adapters, systems and mounts (direct links for ordering)
When ordering, it should be borne in mind that cheap adapters of poor quality with a lens on the Nikon F mount significantly spoil the picture. Adapters without a lens reduce the maximum focusing range (due to the difference in focal lengths). Adapters with chips come across of poor quality, exposure metering and confirmation of focus on some models of cameras may suffer from this.