Helios 44M-4 is a small modification of Helios 44M 58/2Helios 44M-4 without aperture pusher switch – standard lenses for Zenit-12S cameras from the Photosniper-12 kit. In general, I have not yet met Helios-44M-4 outside of Zenit-12SD kits. Unless tattered kits.
Review of Helios 44M-4 58/2 (Helios 44m-4 2/58)
Helios 44m-4 2/58 in appearance resembles the German Pentacon auto 50mm f1.8 and analogues. The serial number of the lens from the review is 871585, issue of 1987, production of the Krasnogorsk plant named after Zverev. The photos in the article are diluted with a lens produced by the Valdai plant Jupiter, which has a diaphragm mode switch.
The frame of the lens is made of aluminum, the frame is engraved in Latin letters like "Helios 44m-4 2/58". There are steel elements in the lens mechanism. Helios 44m 4 weighs about 270 grams.
Helios-44M-4 was later recounted by P.A. Lapin for the use of multilayer coating, which improved the light transmission and color rendering of the lens.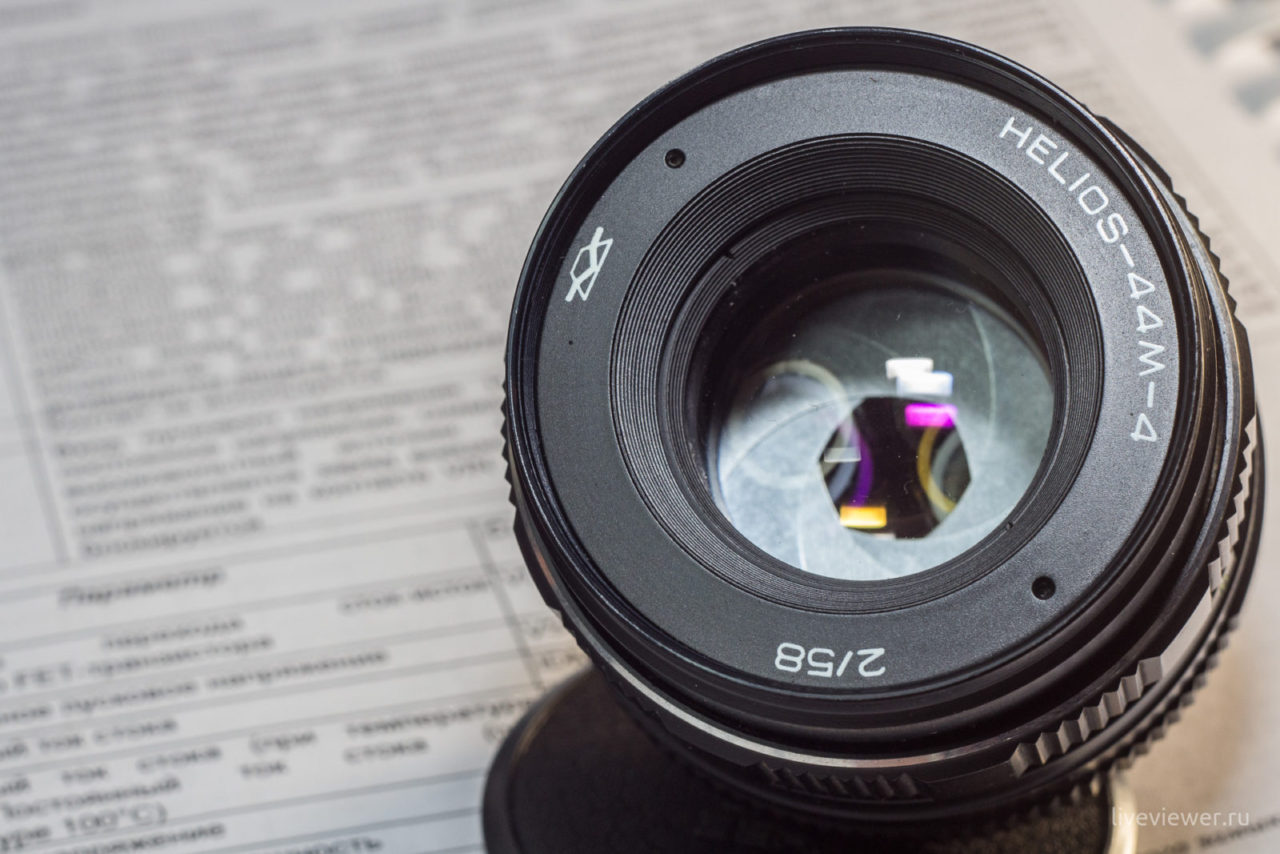 Scheme of the Soviet lens Helios 44M-4
Similar to the Zeiss Biotar 2 / 58mm design, did not change throughout production.
Lenses "Helios" on [PRO] PHOTO
Technical characteristics of Helios 44M-4
Focal length:  58 mm (58.60 mm)
 Aspect ratio:  1: 2
 Field of view:  40 ° 28 ′
 Frame size:  24 × 36 mm

Number of lenses / groups:  6/4
 Front vertex focal length:  −34.25 mm
 Rear vertex focal length:  38.05 mm
 Distance from first to last surface:  39.80 mm
 Clear diameter of first surface:  ∅29.5 mm Clear
 diameter last surface:  ∅24.7 mm

Resolution (0/10/20 mm) 3) : 46/33/26 lines / mm
 Specification resolution (center / edge): 38/19 lines / mm
 Light transmittance: 0.80
 Geometric vignetting:  58%
 Chromaticity formula : 10-0-1.5 Coating
 type:  single-layer, chemical

Near focusing limit: 0.5 m
 Aperture scale range : 1: 2–1: 16
 Number of aperture blades: 6

Flange distance: 45.5 mm
 Connections: 
lens to camera: M42 × 1
 for screw-in tips: M52 × 0.75
 for slide- on tips: ∅54 mm

Dimensions: 
Lens length without caps: 42 mm
 Largest frame diameter: 64 mm
 Weight: 0.3 kg

Helios 44M-4 in operation
Focusing
The lens focuses within 0.5 – 14 meters, the values ​​on the focusing ring are approximate. A scale is applied to the body for calculating the hyperfocal distance of the lens, as well as calculating the depth of field. The Helios 44M-4 focusing ring is grippy thanks to its ribs. Manual focusing is provided by rotating the focusing ring around the lens unit axis.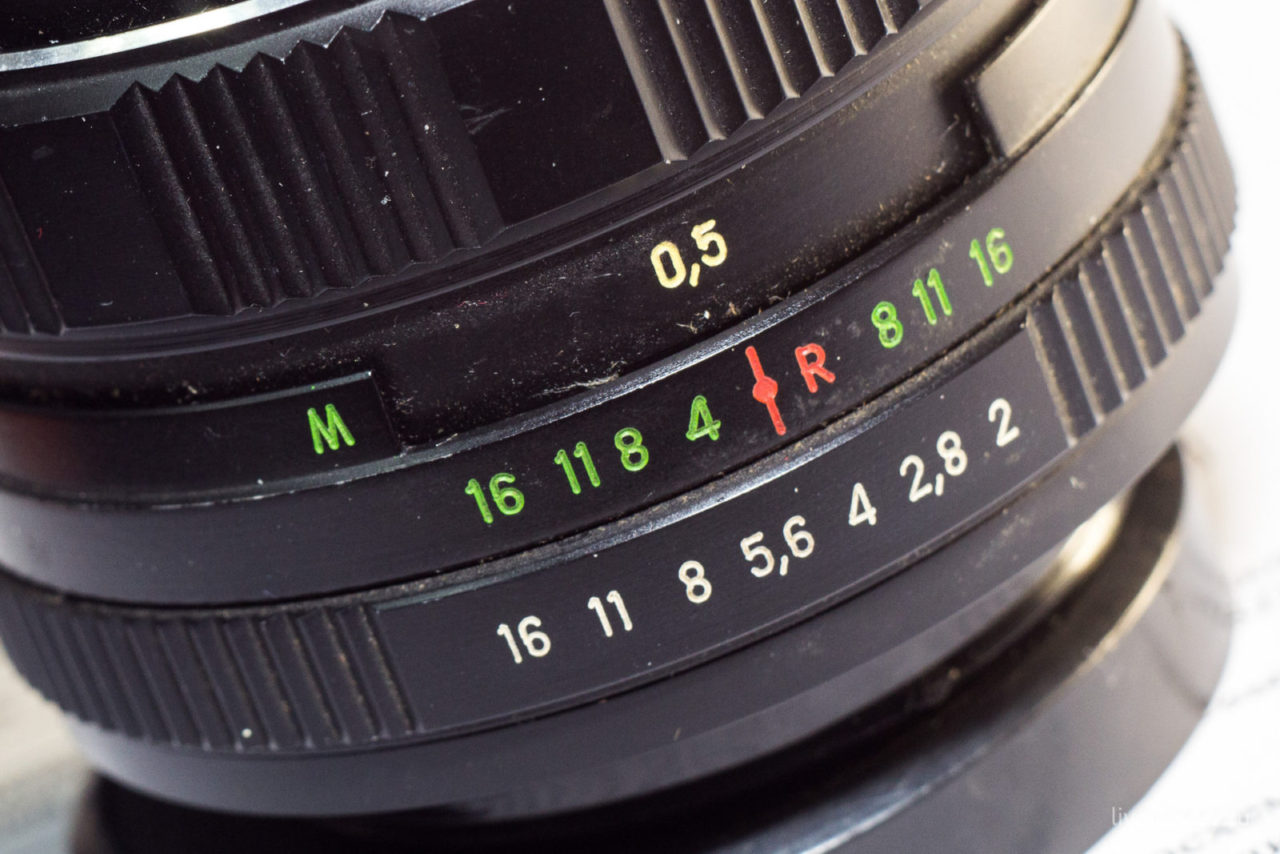 The protrusion of the front edge of the lens barrel at the maximum focusing distance is about 1.1 cm. Rotation is often tight, due to the type of Litol-type lubricant used at the factory, which loses its properties over time and also thickens under the influence of low temperatures. The grease thickens over time so much that the lens has to be serviced. At the same time, cosmetically, the lens may look new.
Due to the shallow depth of field, focusing on the eye, on cameras with a small viewfinder size, can have focusing misses. Better to use LiveView or adapter rings with focus confirmation chip.
Diaphragm
Helios-44M-4 is equipped with an automatic diaphragm, there is no drive lock switch. The diaphragm drive pin can be blocked by flange adapters if your system is not compatible with the lens design; either manually. I blocked with a match.
Aperture adjustment on the body is carried out by a ring with a ratchet-lock, and switching occurs with effort, even on a serviced lens. The relative aperture is adjustable from 1: 2 when open and up to 1:16 when the diaphragm is fully closed.
The aperture of this model has six blades, pronounced nuts in the bokeh appear already at f / 4.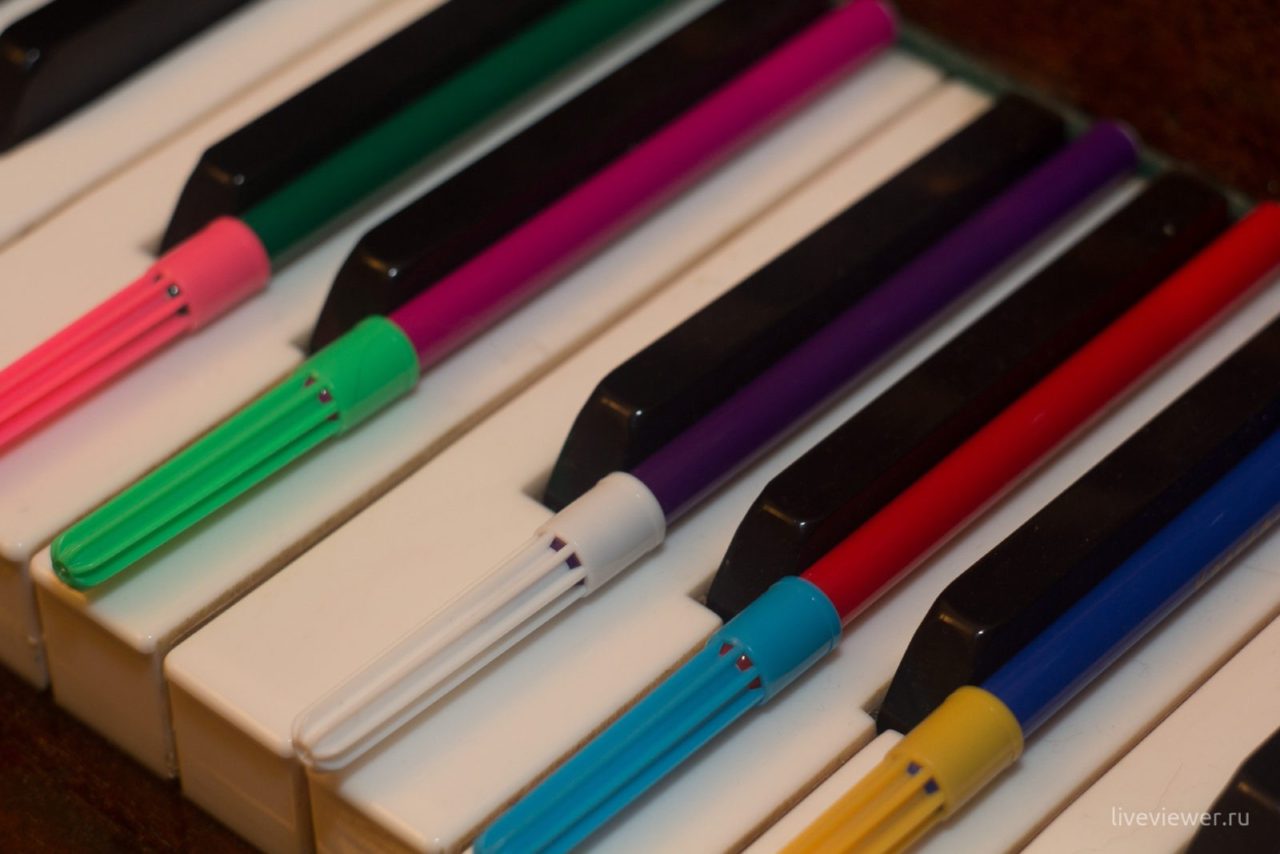 This Helios-44M-4 does not have a diaphragm switch from manual to automatic modes, but the depth of field calculator is made not in the form of engraving on the case, but in the form of a cutout in it. The notch displays the focusing distance.
For the metering to work correctly, you must have a camera with a diaphragm pusher. Modern digital cameras estimate the level of exposure in the frame at an open aperture of the lens (in fact, old film ones too). When using any manual lenses at aperture other than open, you will have to enter exposure compensation.
In the case of these Helios, I had to adjust the exposure (sometimes up to 1 stop) in the negative. That is, the camera "overexposed" the frame.
Shoot in RAW, especially if you're working with Helios for the first time.
Depth of field control
Without removing the aperture ring lock, Helios-44M-4 will not be suitable for filming with sound and soft focus shifting, with on-the-fly control of depth of field.
Aberration, bokeh Helios 44M-4

On an open aperture, there is a noticeable "twisting" in the out-of-focus area (bokeh), as well as color aberrations in contrasting transitions. Twisting the background is highly regarded by some users as it gives the photo an extra artistic touch. Helios 44M-4 turns the background noticeably stronger than Helios 44-2. Coma and distortion are well corrected in "Helios-44M-4".
Sharpness, contrast, color
Center sharpness is appropriate, on par with modern lenses … but falls towards the edges. This is not a bug, this is a feature (s).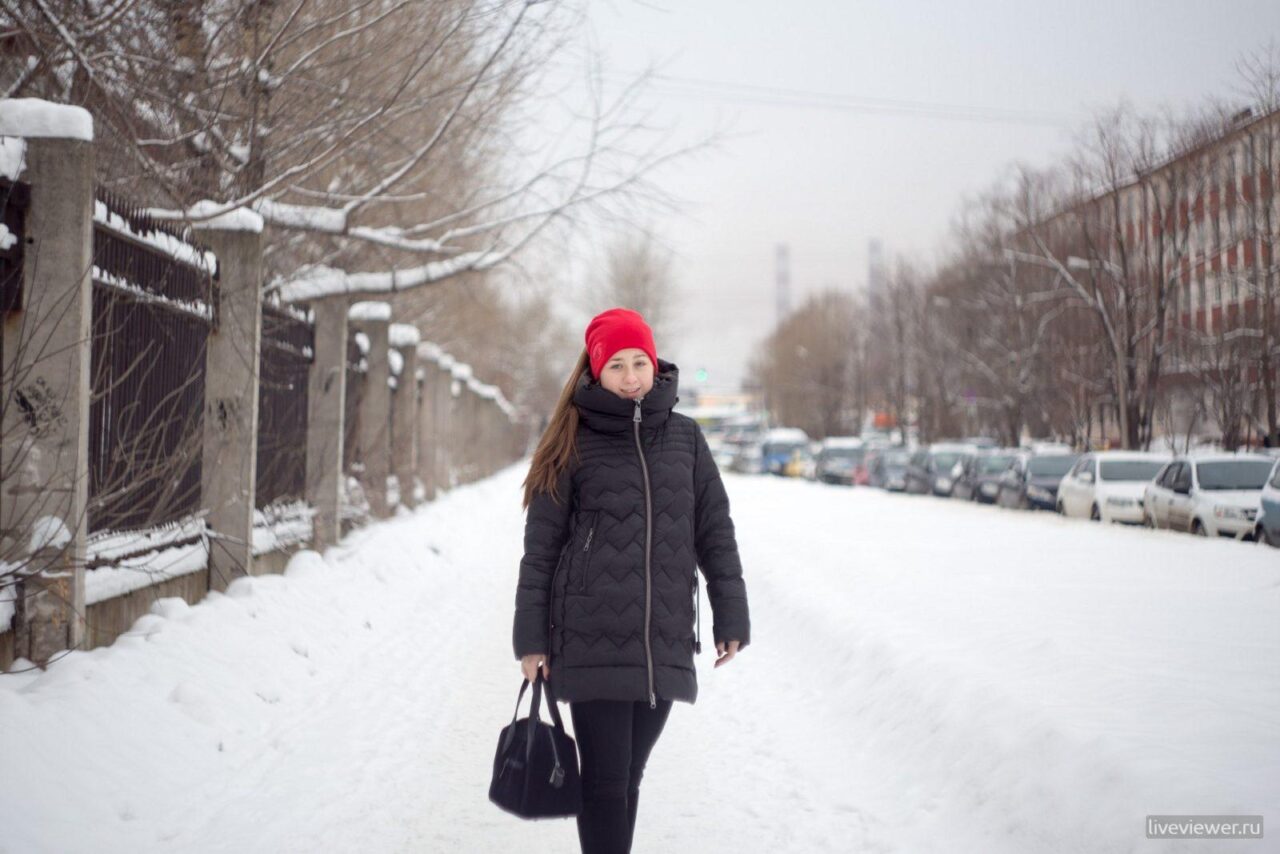 The contrast of the lens is at a normal level, however, it sags when exposed to bright light. Detail also sags. Shooting without a lens hood (which cannot be found) in backlight and sidelight becomes a real hell.
Find out the weak points of your Helios in order to avoid obviously failing compositions.
Excellent sharpness. Different copies, depending on the year of manufacture, have different colors of the front lens coating. They are found with blue and yellow, purple. Lenses of the Helios-44M-4 series of late production were already with multi-coating. These lenses are marked "MC".
Advantages of Helios 44M-4
Any serviceable Helios 44M-4, even now, is able to compete for picture quality with modern plastic autofocus competitors, both in price and in picture quality (in comparison with lenses in the lower price range).
The lack of autofocus should not bother you, because, for example, in portrait photography, it may not be used.
The availability and low cost of Helios 44M-4 gives a tangible advantage when choosing a lens for a novice amateur photographer. Helios have been produced since the 50s of the twentieth century, they were interspersed with industrialists as staffs for Zenit cameras
Indestructible construction. The lens is not afraid of frost, temperature and humidity changes, falls. The metal case will not crack in case of an accidental impact, the absence of electronics will not fail at the right moment, because the higher the complexity, the lower the reliability.
The ability to use with almost any digital cameras , through the appropriate adapter. About adapters below.
High artistry. Even in the absence of special processing skills, you can get a warm tube photo. Branded bokeh twist, good color rendition, pleasing to the eye transition from the sharpness zone to the bokeh zone – the brand's German roots are reflected.
An excellent choice for a novice portraitist. 58mm in full frame, and almost 93mm in 1.6 crop.
The presence of a focusing range indicator and depth of field for calculating the hyperfocal distance. This is a rarity on modern glasses in plastic cases.
It is worth noting that even cosmetically killed specimens retain their basic qualities – it can be a pleasure to shoot on such glass.
Use on modern cameras
To work on digital cameras, you will need an adapter from the M42x1. The easiest way is to install Helios 44m 4 through an adapter on Canon EOS with EF and EF-s mounts. Adapters without chips, from Helios 44m-4 to Canon EF cost mere pennies.
When buying a lens, pay attention to whether your adapters are compatible with Helios 44M-4, whether they have a flange to block the aperture jumping mechanism.
By ordering things from the links below, you help the project cover the costs of site maintenance and development. List of adapters, systems and mounts (direct links for ordering)
When ordering, it should be borne in mind that cheap adapters of poor quality with a lens on the Nikon F mount significantly spoil the picture. Adapters without a lens reduce the maximum focusing range (due to the difference in focal lengths). Adapters with chips come across of poor quality, exposure metering and confirmation of focus on some models of cameras may suffer from this.
Alternatives to Helios 44M-4

The main likely use of Helios 44M-4 is bust portraits. On cropped cameras like Canon EOS 1100D, EOS 60D, EOS 650D, EOS 1300D, EOS 300D, EOS 600D, etc. with an EF-s mount and a crop factor of 1.6 will have an equivalent focal length of 58×1.6 = 92.3mm. For video shooting with changing the depth of field "on the fly", as already mentioned in the article, it is not quite suitable without removing the aperture ring retainer.
The lenses below are a legacy of yesteryear that is still in use today.
Helios series "Mkh-X"
Helios of older modifications have improved optical characteristics, slightly more resistant to back light. Lenses with multilayer coating slightly exceed the cost of Helios-44M-4 and are quite common.
Industar-61 L \ Z 50mm f / 2.8 m42
Sharp, clear. Virtually no aberration, razor sharp from open aperture. Due to the shape of the aperture blades in the bokeh, stars are obtained from the glare. Cheap and common lens.
Carl Zeiss Jena Tessar 50mm f / 2.8 T m42
Rare, true German quality from the 60s-80s. With a perfectly circular 13-blade diaphragm, sleek design.
Carl Zeiss Jena Pancolar 50mm f / 1.8 m42
It is a good choice for leisurely shooting portraits with shallow depth of field, as well as artistic background blur.
Not a bad option for portrait photography with even background blur, slightly better contrast and color. Bright, maximum working aperture – f / 1.7.
Outcome
Despite the sufficient rarity of the lens associated with its delivery in a set of photographic guns, the lens does not show any exceptional qualities in comparison with the older and younger "brothers".
If you take a lens for old cameras, then it should be noted that Helios-44M-4 can be used on Zenit-ET, Zenit-12SD and others with an automatic diaphragm drive. Shooting with the Helios 44m-4 lens is very easy even with old cameras, the main thing is to have a little patience.
The lens also doesn't boast of any improved image quality or usability. Best of all, the lens reveals its artistic potential on full-frame cameras. On cropped ones, the background twist will not be very noticeable, since the central and most sharp part of the optics works. I hope the Helios 44m-4 review helped you get to know this lens a little better. Have operating experience or a question? Write in the comments!
Sample video Helios 44M-4
In this video, a Helios 44M-4 was used paired with a Canon 6d. Not all models are suitable for filming from the Helios 44 series. On this modification, when switching the diaphragm, clicks of the locking mechanism will be heard.
Helios 44M-4 on Canon 60D
Sample photos of Helios 44M-4
Canon 6D
Helios 44M-4 on Canon 60D
Sample photos of Helios 44M-4 on Canon 7D