Industar-22 – a lens from rangefinder cameras like "Zorkiy"
The name of the lens from the era of industrialization of the USSR. Lenses "Industar" were recommended for reproduction, photography with a high level of sharpness.
Industar-22 50mm f / 3.5 M39
A normal lens with coated optics. Equipped with an iris diaphragm. It was produced in two versions of the optical scheme:
Industar-22 and Industar-22m. Produced as standard for the first rangefinder cameras of the "Zorky" type.
With the index "U" (and "U-1") – for enlargers.
Was a standard lens for the first SLR ZENITs. It had a variety of design options, including a folding version similar to the Leitz Elmar lens (3.5 / 5 cm) 2). In the late 1940s, the original version was recounted by M.D. Maltsev.
The recalculated version received the internal (KMZ) name "Industar-22m", but the marking of the lenses themselves has not changed. In the late 1950s, it was replaced by a recalculated lens of the same design – Industar-50. Abbreviations of the name adopted at KMZ: OI-22 (first years of production), then – I-22 and I-22m.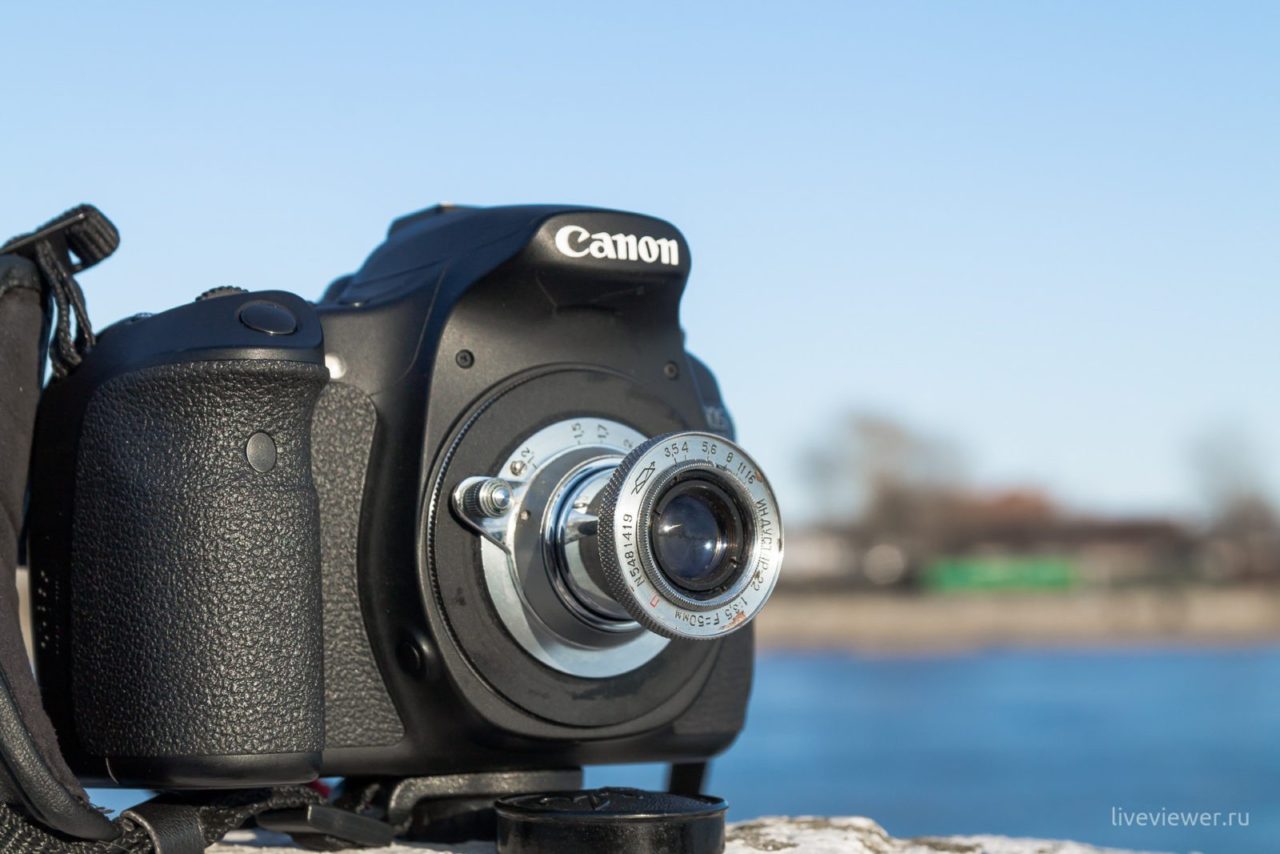 Lens layout
Made according to the "Tessar" scheme. High sharpness, minimal aberration. The lens detects excellent sharpness and color performance in use.
Lenses "Industar" on the portal
Specifications Industar-22



Focal length:

 

 50 

 mm 




- Industar-22 - 

 51.39 

 mm 




- Industar-22m - 

 52.43 

 mm 




Relative aperture:

 

 1: 3.5


 Angle of view:

 

 46 °


 Working distance:




 for rangefinder cameras - 

 28.8 

 mm 




for SLR cameras - 

 45.2 

 mm 




Number of lenses / groups:

 

 4/3


 Aperture

  range : 1: 3.5–1: 16


 Close focusing limit:

 

 1 

 m 

Connections:

 

 lens to camera: 

 M39 × 1


 for screw attachments:




 folding version - 

 no


fixed 

-frame version -

 M33 × 0.5
 

for




 slip-  

on attachments:

 folding version - 

 ∅27  

mm
 

Resolution according to TU (center / edge):




 rangefinder folding version - 

 32/22 lines / 

mm 




Light transmittance:

 

 0.80
 Color 

formula:

 

 7 --0--0 Coating
 

type:

 

 single-layer 

Overall dimensions (largest frame diameter × length):




 folding rangefinder version - 

 ∅45 × 47  

mm 




rangefinder version in

 fixed 

frame - 

 ∅53 × 37.5  

mm 




option for SLR cameras - 

 ∅50 × 21  

mm 




Weight:




rangefinder folding version - 

 80  

g 




rangefinder in fixed frame - 

 120  

g 




version for SLR cameras - 

 110  

g 

Year of development:




 - Industar-22 - 

 1945
 

Years of production:




 - Industar-22 - 

 since 1948
 

- Industar-22m - 

 approximately from 1950
 

- Industar-22 for ZENIT - 

 since 1952
Lenses similar to Industar-22 (50mm f / 3.5)
Industar-22 for rangefinder cameras "Zorkiy", FED (M39)

Industar-22 for Zenit SLR cameras in fixed frame (M39)

Industar-22 for rangefinder cameras "Zorkiy", FED, "Mir", in a fixed frame (M39)

Industar-50 for rangefinder cameras (M39)

Industar-50 for SLR cameras (M39)

Industar-50 for SLR cameras (M42)

Industar-50 1960s, black frame (М42)

Industar-50S for medical cameras

Industar-50 folding, manufactured by LZOS (M39) (standard for Zorky, Zenit-S)
Industar-22 for Zenit SLR cameras (M39) can be mounted on M42x1 threaded connection through the adapter ring M39x1-M42x1. Industar-22 in a fixed mount for rangefinder cameras (М39х1) can be installed on SLR cameras with М42х1 thread by disassembling the lens and removing part of the mount with the rangefinder pusher. No multi-coated lenses (MC) were produced. The optics have the usual coating, the "P" mark on the front lens ring proudly announces this.
Industar-22 (50mm f / 3.5) in operation
Focusing
Focusing of the Industar-22 lens is carried out by rotating the body around its axis using a lever with a lock at "infinity".
With the help of the same device, Industar-22 is fixed in the stowed position.
Diaphragm
The diaphragm is controlled by the ring on the front of the lens (on versions of the lens with a fixed body, this is inconvenient), has 8 blades. At narrow values, in the out-of-focus area, the highlights will be replaced by "nuts" that repeat the shape of the relative aperture formed by the petals.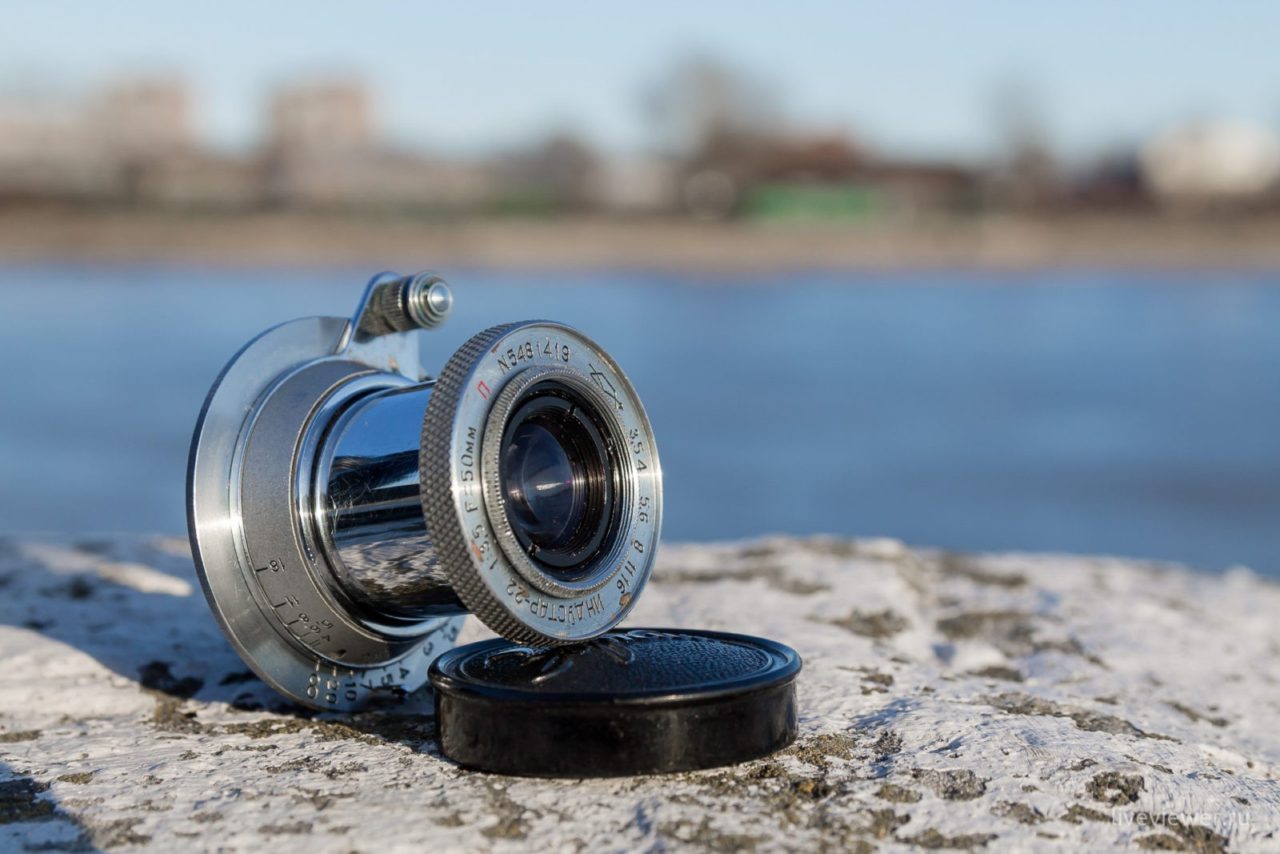 The minimum focusing distance is 120 centimeters, the focusing ring rotates almost 270 degrees around the axis, and thanks to this allows you to more accurately adjust the focus.
Depth of field
Sharp from wide open, depth of field allows for portraits with slight background curling and sufficient background blur for a maximum aperture of f / 2.8.
Aberrations
The lens has corrected or minimized aberrations such as astigmatism, spherical and spherochromatic aberrations. The Tessar design itself implies high sharpness and minimization of various aberrations.
Housing and build quality Industar-22
The build quality is decent. Industar-22, of course, is not without backlash. The aperture ring was backlash. The review lens required a lubricant change on the diaphragm assembly. It is very easy to disassemble. Tube version, folding version. Very interestingly marked up, its own, authentic focus control.
Of all the rangefinder lenses for FED and Zorkikh, I like the tubes Industar-22 and Industar-50. If only because the lens in the stowed position is retracted into the camera.
Use Industar-22 carefully on mirrorless cameras. The lens is designed for rangefinders with a deeper body than modern mirrorless cameras have.
Using Industar-22 on modern cameras
Due to the smaller focal length of the rangefinder option, use on SLR cameras is limited, and the focusing distance only allows shooting up to 2 meters. For a Canon SLR camera with an EF (-s) mount, Industar-50 and 50-2 can be installed via an adapter from M42 to EF .
Focal length alternatives for Industar-22 (50mm f / 3.5)



The main probable application of the Industar-22 is bust portraits. The lens is not suitable for video shooting. management is far from the best. The analogs for SLR cameras presented below are the legacy of the past, which is still in use today.
Industar-50, Industar-50-2 50mm f / 3.5 m42
A complete analogue of Industar-22, since the 60s, has been produced for SLR cameras, and in its mass, it is quite common. Optical qualities are not bad, with the exception of certain nuances in the work.
Helios of any modification will have better artistic characteristics due to the working wide aperture of f / 2, and older models of Helios are more resistant to backlight.
Carl Zeiss Jena Pancolar 50mm f / 1.8 m42
It is a good choice for leisurely shooting portraits with shallow depth of field and artistic background blur.
Meyer Optik Domiplan 50mm f / 2.8
It is made according to the "Tessar" scheme, has a sharp and clean picture, good sharpness, easy to handle, lightweight. Widespread and cheap.
Summary
It fits perfectly on mirrorless cameras like Sony NEX, Canon EOS M. The main thing is not to fold the lens. In the secondary market, it has a cost of 800 rubles, for RARE. Thanks to the folding design, FED and Zorkiy of the first models fit freely in a trouser pocket, allowing you to carry these cameras with you everywhere.