The name of the lens from the era of industrialization of the USSR. Lenses Industar-61 L / Z were recommended for reproduction, photography with a high level of sharpness.
Industar-61 L / Z MS 50mm f / 2.8 review
Four-lens anastigmat of medium luminosity with coated optics. Industar-61 L / Z 2.8 / 50 is equipped with an iris diaphragm, in the version for SLR cameras – an additional "push" diaphragm. In the technical specifications and on the lenses themselves, the focal length was indicated as: 50 mm, 52 mm, 53 mm and even 55 mm. The designations L / D (LD) and L / Z (LZ) are usually deciphered as: lanthanum glass, rangefinder or SLR camera. However, the letter "L" (at least for the Industar-61L lens) could have another original meaning – "lytkarinsky".
Lens layout
Lens scheme Industar L / Z (LZ) 50 / 2.8 Made according to the "Tessar" scheme. High sharpness, minimal aberration. The lens detects excellent sharpness and color performance in use. The lenses are deeply set in the body of the lens – a kind of hood is formed by the body.
Due to the use of super-heavy glass samples, it was possible to bypass the limitations of the "Tessar" scheme and the maximum relative aperture instead of f / 3.5 became f / 2.8.
Lenses "Industar" on the portal
Specifications Industar-61 L / Z MS
Focal length:

 50 mm (52.42 mm)
 

Relative aperture:

 1: 2.8
 

Field of view:

 46 °
 

Frame size:

 24 × 36 mm
 

Number of lenses / groups:

 4/3
 

Front vertex focal length:

 -43.78 mm
 

Rear vertex focal length:

 41.07 mm
 

Distance from first to last surface:

 22.9 mm
 

Flange distance:

 45.5 mm
 

Aperture scale:

 1: 2.8–1: 16 

Number of aperture

 blades
 : 5
 

Light diameter of first surface:

 ∅18.6 mm
 

Last surface light diameter:

 ∅16.4 mm
 

Near focusing limit:

 0.3 m





Connections:

 lens to camera - M42 × 1


for screw-in bits - M49 × 0.75


for slip-on attachments - ∅52 mm




Filter Mount Location:

 Front





Resolution on TU (center / edge):

 42/30 lines / mm
 

Light transmittance:

 0.85
 Color 

formula:

 11-0-1.5 Coating
 

type:

 no data





Dimensions:


lens length - 59 mm


largest frame diameter - ∅57 mm




Weight:

 225 g





Years of production:

 since 1971 LZOS
Lenses similar to Industar-61 L / Z
In addition to KMZ, the lens was produced by the Lytkarino Optical Glass Plant (LZOS): Industar-61L 2.8 / 52 – for rangefinder cameras (M39 × 1 / 28.8), Industar-61L / Z 2.8 / 50 – for SLR cameras ( M42x1 / 45.5), and the Kharkov plant FED: Industar-61 (I-61) 2.8 / 52, Industar-61L / D 2.8 / 53, 2.8 / 55 – for rangefinder cameras, plus formally non-replaceable a bayonet version for a camera with a central shutter FED-10 and a non-replaceable version for a FED-11 "Atlas". In addition to the Industar-61M 2.8 / 50 threaded lens for the M42 × 1 / 45.5 connection, the Krasnogorsk Mechanical Plant produced a variant for the adapter ring "A" (Industar-61A) 2.8 / 52, and there is also information about the bayonet version in a frame for a ZENIT-7 camera.
Rangefinder modification Industar-61 L / Z 50 2.8 – Industar-61 L \ D. Industar-61 L \ D is a standard lens for FED rangefinder cameras of the fourth and fifth generations. The rangefinder modification can only be installed on mirrorless cameras without modification.
Versions of Industar-61 L / Z come across both with single-layer and multi-coating. The difference between them is not particularly noticeable – the front and rear lenses are themselves made of high quality glass.
The Industar-61 was the first domestic consumer photographic lens to use super-heavy crowns (STK-6 brand in two positive lenses). Subsequently, the use of lanthanum and other special glasses in lens indices was not particularly noted.
Industar-61 L / Z 2.8 / 50 in operation
Focusing
The lens focusing ring is wide, occupying most of the body surface. The focus ring has 360-degree soft rotation for precise focusing.
The minimum focusing distance of Industar-61 L / Z is 33 centimeters. The focusing distance range of Industar-61 L / Z is suitable for both portrait and macro photography.
When focusing, the front part extends by about 2 centimeters, over time "sucking" dust into the lens space. Infinity at Industar-61 L / Z MS 2.8 / 50 comes after seven to eight meters.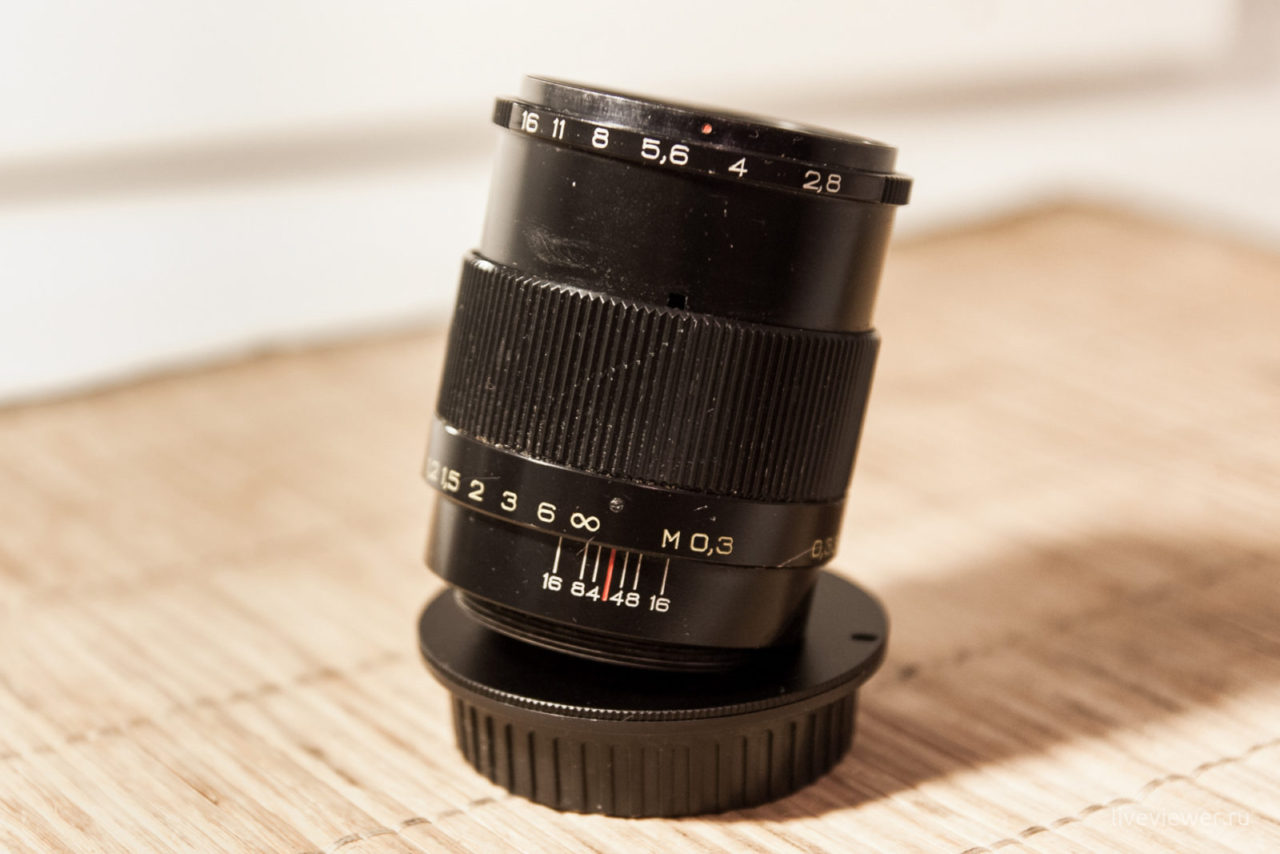 A small depth of field at an open aperture and a large rotation circle of the focusing ring reduces the efficiency of changing focus. For this reason, the lens is not very suitable for dynamic shooting.
Diaphragm
Iris, 5-petal, petals of a special shape, blackened, folded in the shape of a star. The diaphragm ring is thin, smooth. The movement of the diaphragm ring is smooth.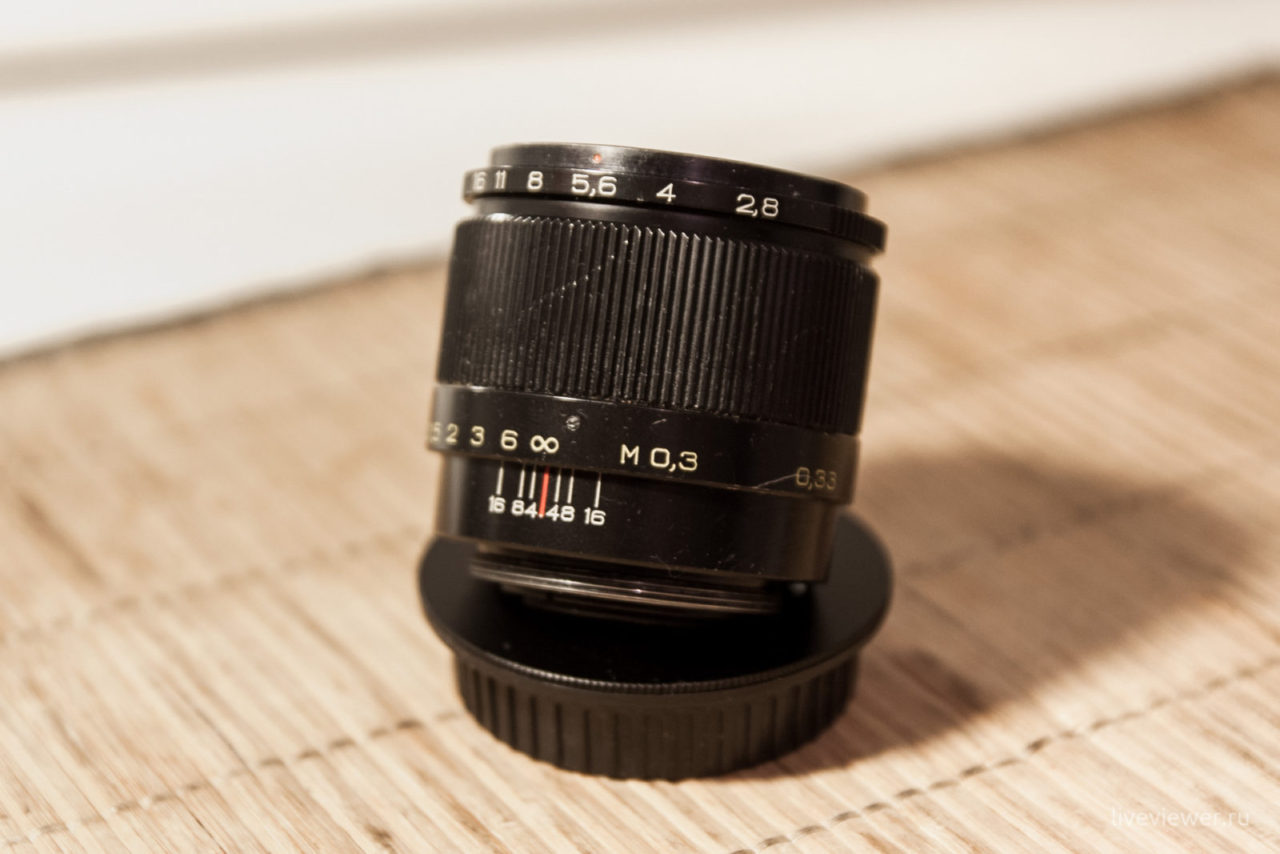 The star-shaped aperture aperture inherent in the purely Industar-61 L / Z makes this lens interesting to use – at large aperture values ​​in the out-of-focus area there appear asterisks of light sources of glare, instead of the "nuts" usual for other lenses. Thus, the small number of diaphragm blades is compensated by the unusual shape of the relative aperture.
Only the Japanese Rikoh Rikenon 28mm f2.8 has this (and some of its clones).
There is no aperture automatic in the lens, so even on advanced cameras of that time it was necessary to set the aperture with the knobs in all shooting modes.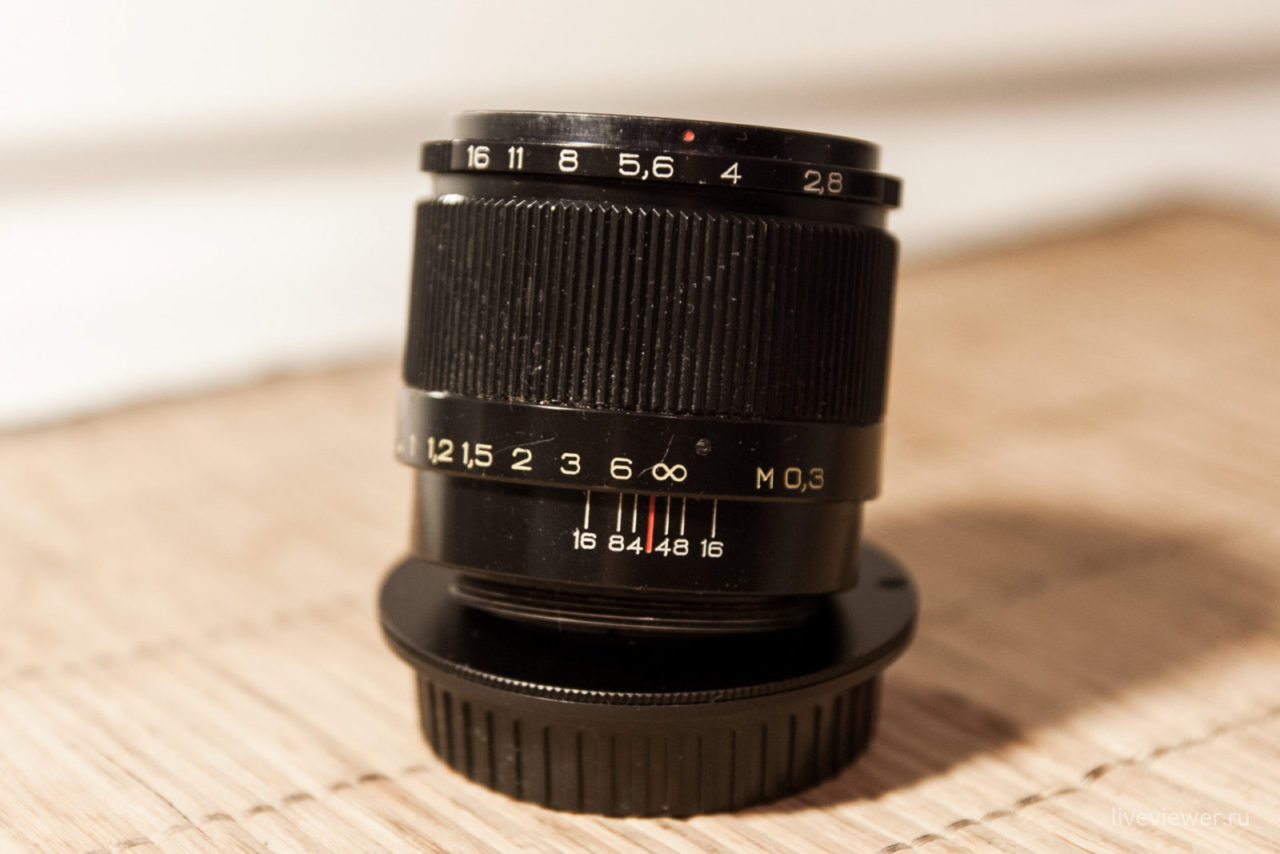 Due to the small size and smoothness of the diaphragm ring, it is inconvenient to select the value with gloves.
Preset ring
The iris control ring is combined with the preset mechanism. The mechanism is triggered when the diaphragm ring is pulled towards you. On many Industar-61 L / Z, there is noise when rotating the ring in the preset mode. One gets the impression that something inside is clinging to him.
Users are often unaware of the existence of this ring. Presetting the aperture by locking is necessary in order to correctly focus and set the depth of field.
Depth of field control
Due to the shallow depth of field, focusing on cameras with a small viewfinder can lead to hitting problems. You have to use LiveView mode much more often than with autofocus lenses.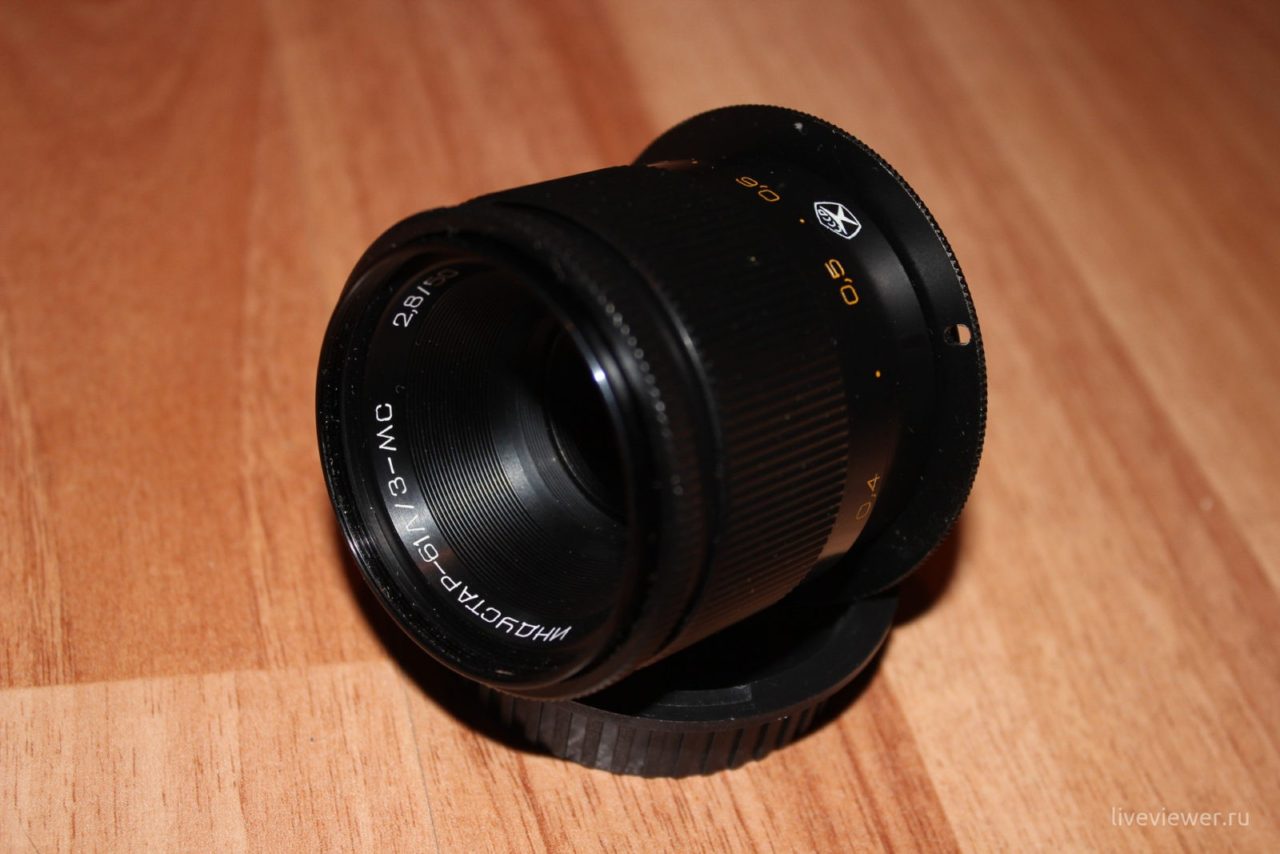 As an alternative to LiveView, you can use the distance scale and depth of field of the lens itself, or adapter rings with a focus confirmation chip (more expensive).
Aberrations
The lens has corrected or minimized aberrations such as astigmatism, spherical and spherochromatic aberrations. And even at an open aperture (f / 2.8) Industar 61 LZ, they are minimized.
Excellent optical characteristics of "Industar-61" are obtained due to the use in both positive lenses of the superheavy lanthanum crown STK6 (Crown is called glass with a low refractive index and high dispersion (the difference between refractive indices for beams of different colors).
Vignetting
When the lens is mounted on a full-frame camera, vignetting can be observed in the corners at the f / 2.8 aperture of the Industar-61 LZ. Vignetting disappears at f / 5.6 and appears at f / 4 depending on shooting conditions. On crop 1.6 (Canon APS-C), Industar-61 L / Z vignetting is not noticeable.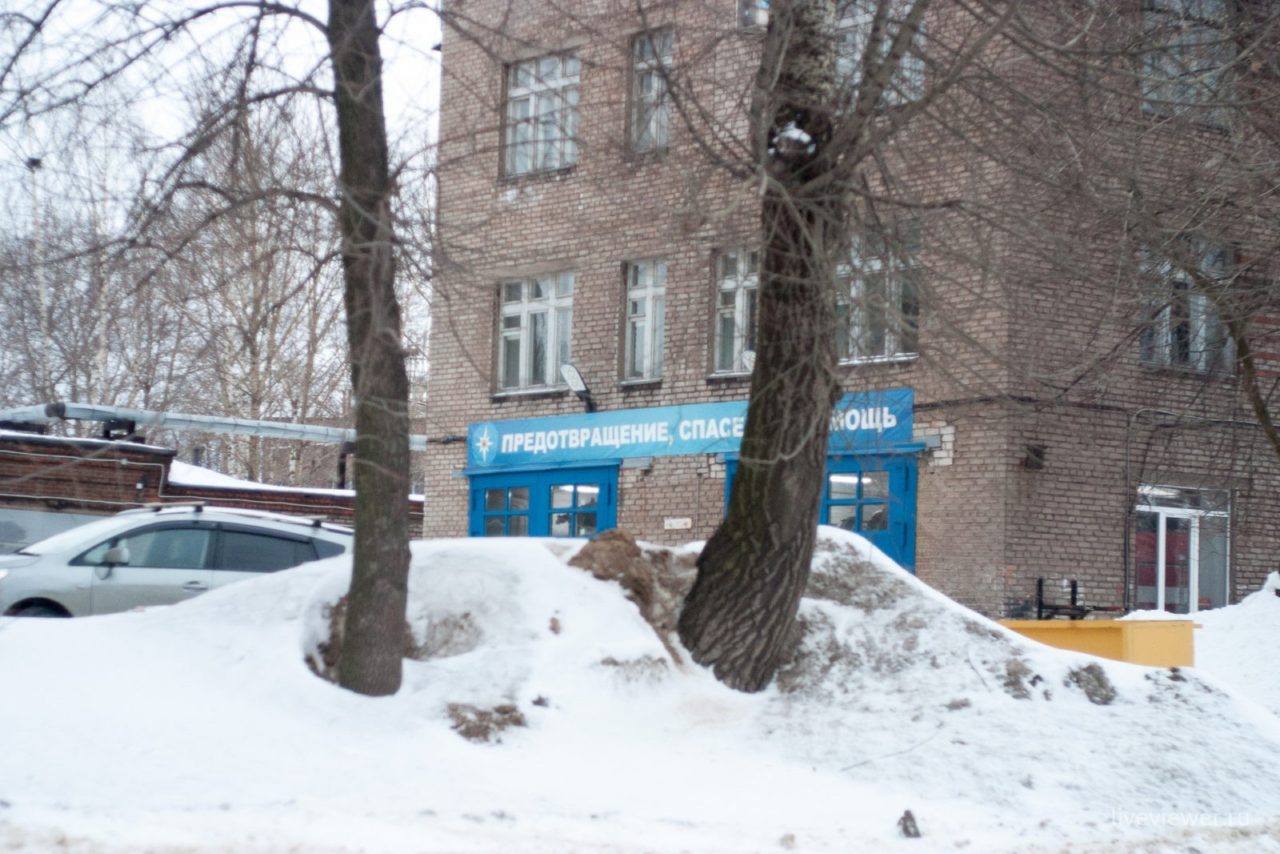 Sharpness, contrast, color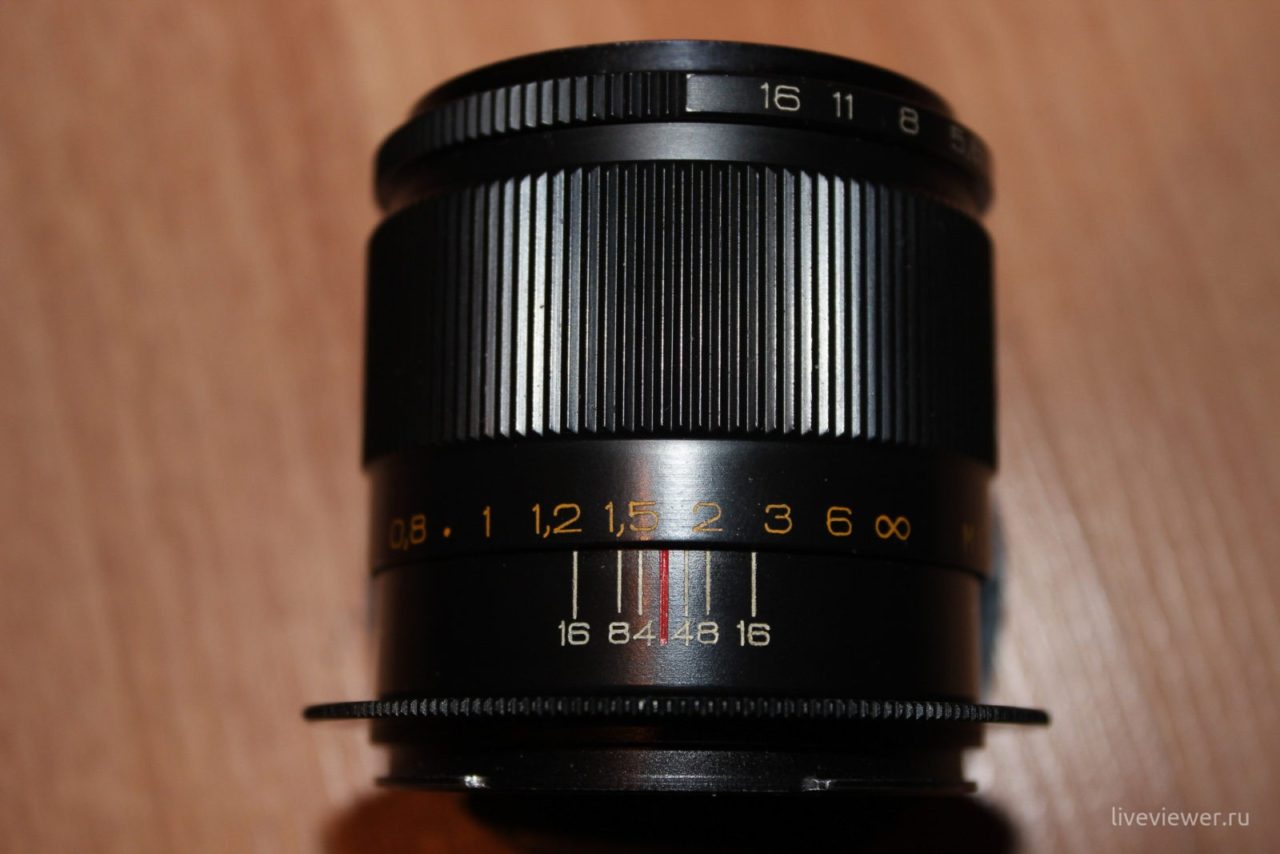 The lens sharpness is excellent. I was convinced of this myself, using it for macro photography, and in the process of collecting images for this article. On the open side, there is an insignificant drop in sharpness towards the edge of the image, which is eliminated by tilting the aperture ring towards f / 3.2. Color reproduction and detailing are pleasing to the eye exactly as long as strong backlight does not hit the lens. The lens does not like bright backgrounds, shooting in backlight is contraindicated. Even multi-enlightenment does not help.
Housing and build quality Industar-61 L / Z
The build quality of the lens is floating. I have not yet met the Industar-61 L / Z without backlash, or a jammed aperture ring in the preset mode. In general, the lens does not look or feel loose, flimsy. Some examples required grease change, disassembly and maintenance. In disassembly, Industar 61 LZ is quite simple, does not require special skills other than care.
The rims are engraved and painted. Colors differ from lens to lens. I came across both with yellow and white lettering, and multi-colored. The depth of field calculator is embossed on the body. The front lens is recessed deep into the body, forming a hood.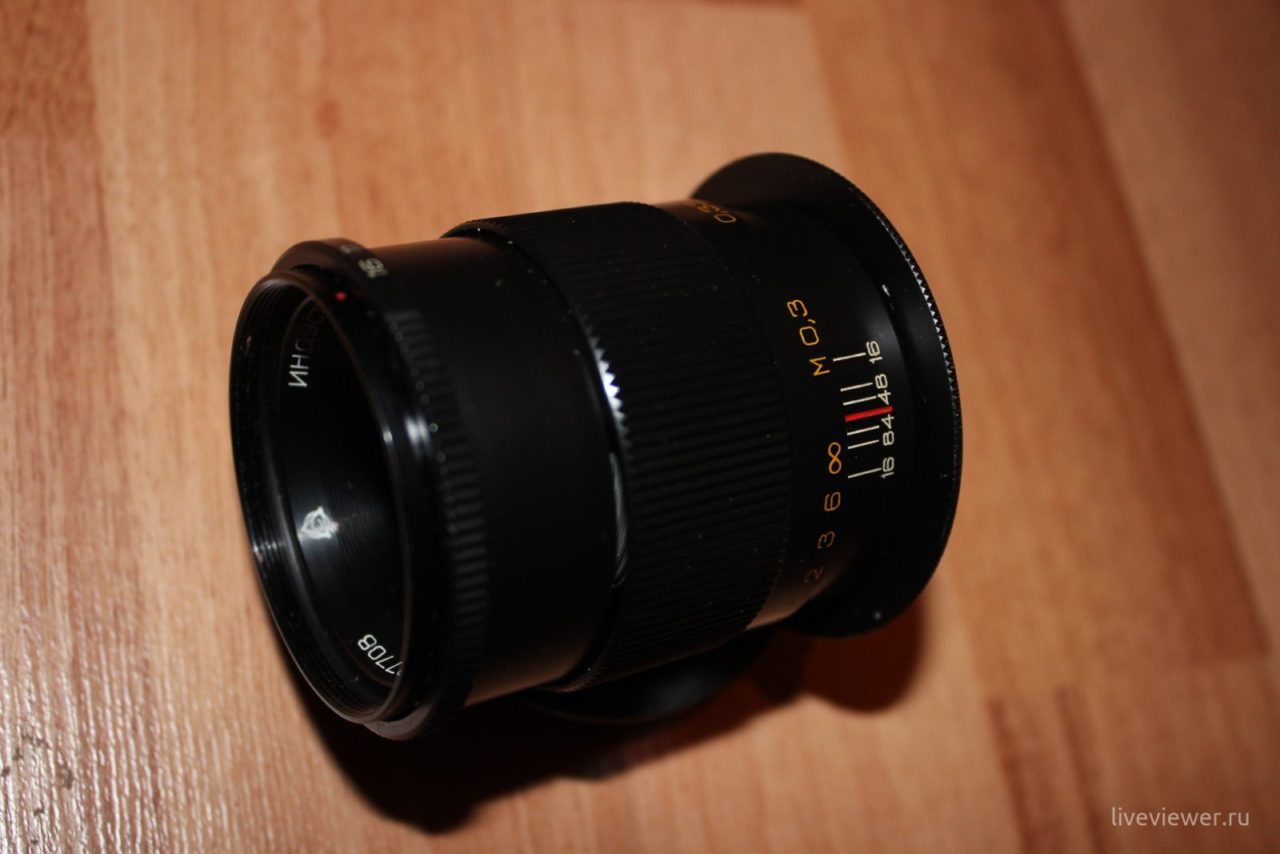 Advantages of Industar-61 L / Z
A serviceable Industar-61 L / Z

 creates a picture at a level that in places makes modern plastic competitors of the lower price segment.

The lack of autofocus

 should not be embarrassing, because, for example, in portrait and macro photography it can be omitted.

The depth of field calculator and distance scale

 cannot be found in most modern lenses. Industar-61 L / Z can be set according to the marks on the lens itself and shoot without looking.

The availability of

 Industar-61 L / Z gives a tangible advantage when choosing a lens for a novice amateur photographer.

Simple and damage-resistant design. 

The lens is not afraid of frost, temperature and humidity changes, falls. The metal case will not crack from impact, and the absence of delicate electronics allows you not to worry about its safety. Industar-61 LZ is easy to disassemble and maintain.

Possibility of using with any CZK

 , through the appropriate adapter. About adapters below.

A good choice for an

 aspiring portraitist. High sharpness, rather thin depth of field in the open, despite the incomplete blurring of the background, allows you to use the lens in portrait photography. Star-shaped highlights in the bokeh add artistic value to the frame.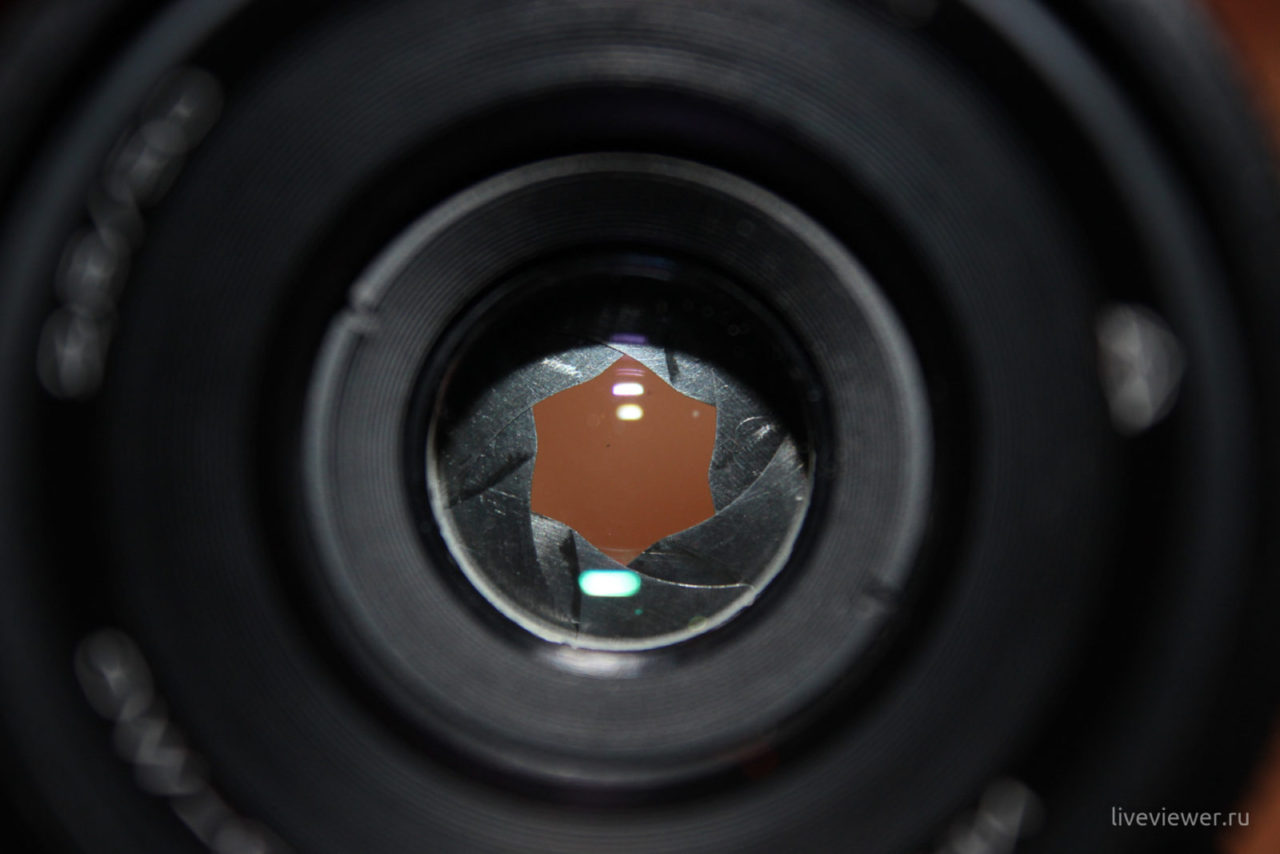 Use on modern cameras
On modern CZK, the Industar-61 L / Z lens can be used through an adapter from the m42 thread to your system. it is easiest to put on Canon EOS with EF (-s) mount, due to the insignificant difference in focal lengths. Adapters without focus confirmation chips on Canon cost mere pennies.
By ordering adapters using the links below, you help the project cover the costs of site maintenance and development. List of adapters, systems and mounts (direct links for ordering):
When ordering, it should be borne in mind that cheap adapters of poor quality with a lens on the Nikon F mount significantly spoil the picture. Adapters without a lens reduce the maximum focusing range (due to the difference in focal lengths). Adapters with chips come across of poor quality, exposure metering and confirmation of focus on some models of cameras may suffer from this.
Industar-61 L \ Z on a full-frame camera
Has a field of view of 46 degrees, standard lens. Vignetting will be observed around the edges of the frame at wide apertures.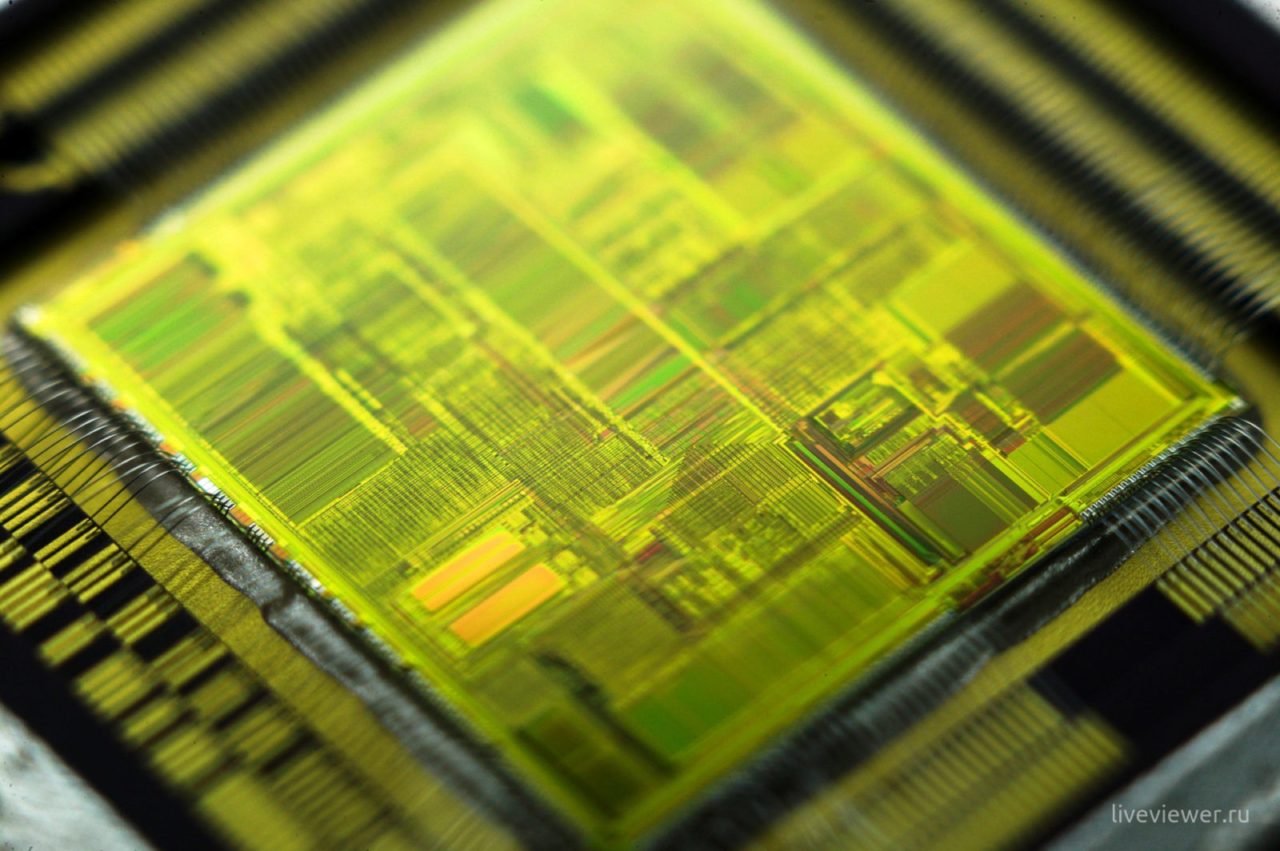 Industar-61 L \ W on crop 1.6
Will have an angle of view equal to 73mm full frame. Vignetting will not be noticeable, depth of field will increase slightly, background blur will decrease. All other lens parameters will not get worse.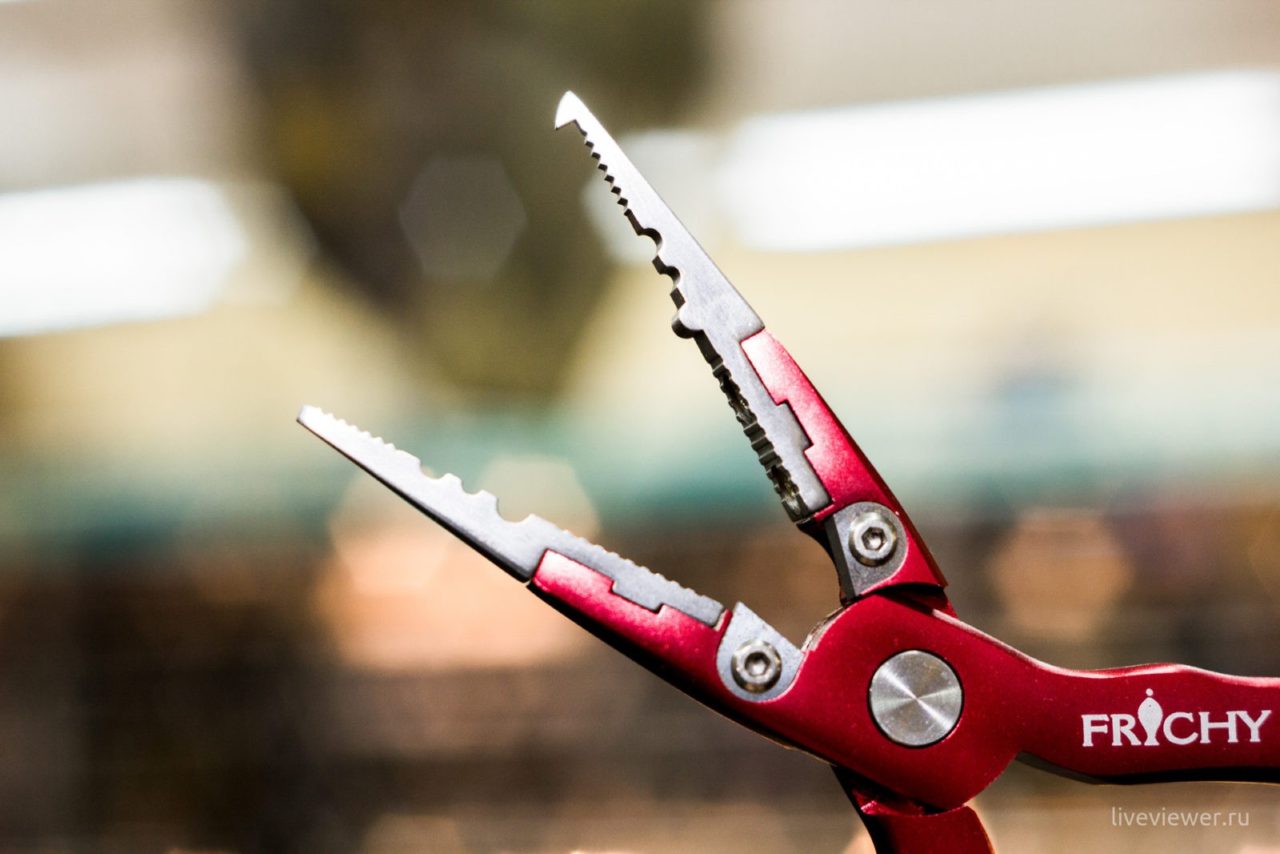 Permissible for portraits.
Industar-61 L / 3. Focal Length Alternatives
The main probable application of Industar 61 L / Z is bust portraits. For video shooting, the lens is suitable if you are satisfied with the accuracy of rotation of the focusing ring.
The lenses below are a legacy of yesteryear that is still in use today.
Helios of any modification will have better artistic characteristics due to the working wide f / 2 aperture, and older Helios models are slightly more resistant to backlight.
Carl Zeiss Jena Tessar 50mm f / 2.8 T m42
Rare, true German quality from the 60s-80s. With a perfectly circular 13-blade diaphragm and sleek design.
Carl Zeiss Jena Pancolar 50mm f / 1.8 m42
It is a good choice for leisurely shooting portraits with shallow depth of field and artistic background blur.
Meyer Optik Domiplan 50mm f / 2.8
It is made according to the "Tessar" scheme, has a sharp and clean picture, good sharpness, easy to handle, lightweight. Widespread and cheap.
Not a bad option for portrait photography with even background blur, slightly better contrast and color. Bright, maximum working aperture – f / 1.7.
Summary
Due to the glare in the bokeh, the lens can be used in artistic photography if you correctly compose the frame and choose the lighting.
Of course, in comparison with modern ones, the lens does not boast of any improved image quality or usability. However, this is offset by its reliability, unpretentiousness and price.
In the secondary market, modifications of Industar-61 L / Z with both single-layer and multi-coating can be found at an average price of one to one and a half thousand rubles, which is not so expensive for a completely good lens.
Sample photos from Industar-61 L / Z
Industar-61 L / Z MS on crop 1.6. Shot with Canon 60D, Canon 600D
Shot with Canon 1DS and Industar-61 L / Z MS
Sample video from the lens Industar-61 L / Z