MC Peleng 3.5 / 8A is an ultra-wide angle fisheye circular lens with coated optics. A distinctive feature of the lens is a 180 ° field of view in all directions, which allows you to capture the entire front hemisphere of object space.
Technical characteristics of MS Peleng 3.5 / 8:
Focal length, mm: 8.1 ± 0.25
 Relative aperture: 1: 3.5 ÷ 1:16 
 Angle of field of view, angular degree: 180 (full frame)
 
Resolution according to TU, center \ edge, mm: 55 \ 15
 Minimum shooting distance, m: 0.3
 Light transmittance coefficient: 0.7
 Dissipation coefficient: 0.03
 Overall dimensions, mm diameter / length: 73.5 × 65, 5
 Weight, kg: 0.4
"MC Peleng A" is equipped with two M42x1 adapters and an 'H' mount, it can be used with two types of cameras – "Zenith" and "Kiev".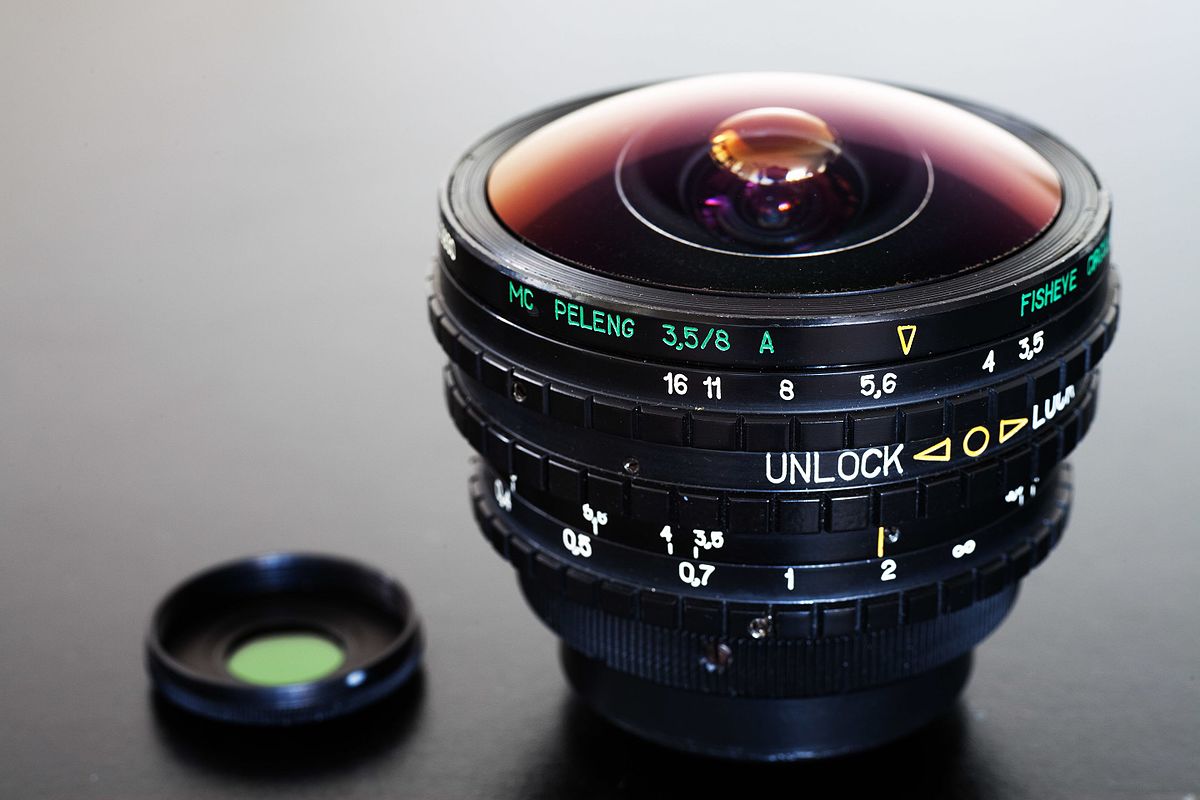 The lens was supplied with adapters for use in various SLR cameras.
for the Zenit camera, an M42 × 1 adapter with a M42 × 1 connecting thread and a working distance of 45.5 mm is used;
for Kiev cameras and Nikon digital and film cameras, an H adapter with a working distance of 46.5 mm is used;
for digital and film cameras "Canon" the adapter "EOS" with a focal distance of 44 mm is used.
The bearing guarantees an unusual shooting, in the process of work it is able to place objects, original natural landscapes, whole architectural ensembles so fascinated by you in the frame from a close distance, giving them a new look. By changing the usual proportions of objects, the lens allows you to achieve very unusual and impressive pictorial effects. Bearing 8mm f / 3.5 is indispensable for indoor shooting. The image obtained by the lens is a circle with a diameter of 24 mm, occupies only a part of the 24 × 36 frame and is inserted into the small side of the frame. The geometric centers of the image and the frame coincide. The diaphragm is controlled manually. Bearing 8mm / 3.5 has a device for presetting the diaphragm, which increases the efficiency when photographing and a set of replaceable light filters.