The Soviet photo lens Zenitar-M 50mm f / 1.7 m42 was produced by KMZ for quite a long time. Under the Zenitar name, KMZ still manufactures manual focus lenses with a metal body.
The name "Zenitar" and its derivatives do not describe any specific optical device, and was assigned to lenses of various types intended for the "Zenith" equipment. The brand appeared in the late 1970s after the decision to unify the names of the KMZ model range im. Zvereva, as the most memorable in the international market.
Lens in a metal housing. Yellow coated optics. The design of the frame is similar to that of the 44M-series Helios , and the tactile sensations are, in principle, identical to lenses in a similar frame. But first things first. Review lens provided by Ilya F., Cherepovets. For which many thanks to him.
Scheme of the Soviet lens Zenitar-M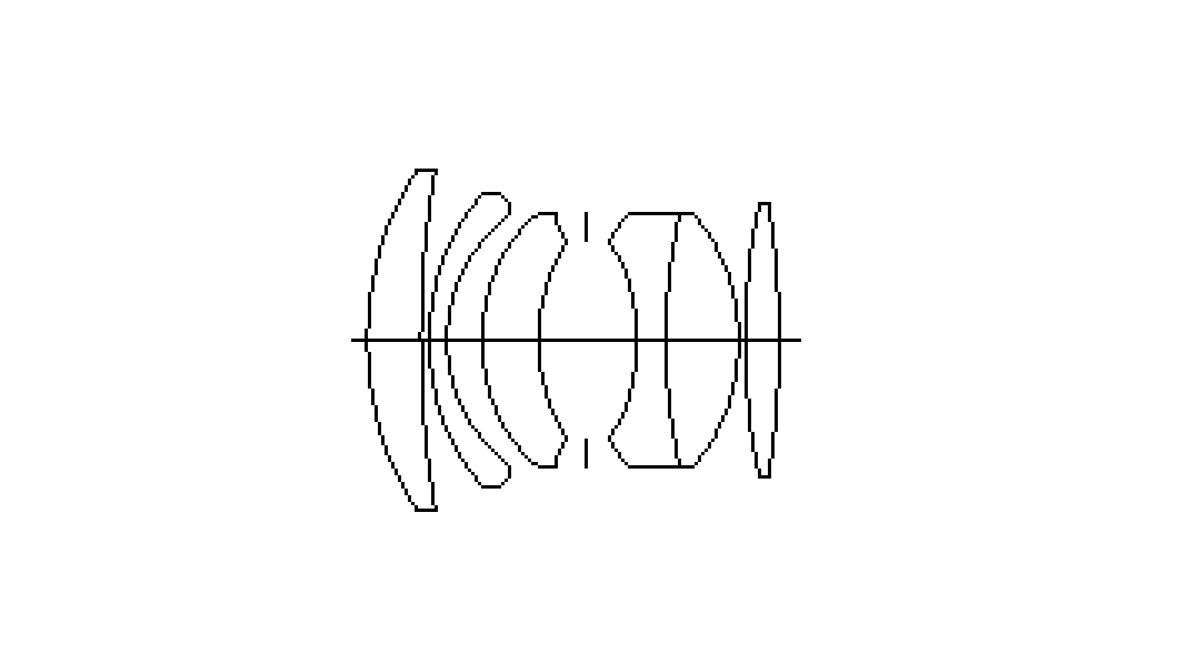 The scheme is a direct reference to the ancestor – the German scheme of the Ultron lens by Albrecht Tronier. Development was completed in '37 for the Schneider Kreuznach and is considered a variation on the Gaussian dual lens.
Zenitar lenses on [PRO] PHOTO
Zenitar-M 50mm f / 1.7 m42
Specifications Zenitar-M 50 \ 1.7
Focal length:

 50 mm 


Relative aperture:

 1: 1.7


 Angle of field of view:

 46 °


 Frame size:

 24 × 36 mm 
Linear dimensions of the photographed field at 0.45 m : 16 × 24.4 cm 


Focal distance 

:

 45.5 mm 


Quantity lenses / groups:

 6/5


 Aperture type:

 push-on, switchable


 Number of aperture

 blades:6


 Aperture scale limits:

 1: 1.7—1: 16


 Close focusing limit:

 0.45 m



Resolution on TU (center / edge):

 43/24 lines / mm
 Coating

 type:

 no data



Connections:

 


 lens to camera -

 M42 × 1


 for screw caps -

 M52 × 0.75


 for

 snap

 -on

 caps

 -

 ∅54 mm



Overall dimensions:

 


 lens length without caps -

 52 mm, 


largest frame diameter -

 ∅62 mm ,

 dimensions:

 65 mm 


Weight:

 0.28 kg



Development began in

 1975.


 Calculation:

 no data.


 Design:

 V.G. Kvaskova.


Production:

 serial


 Production years:

 since 1977 and 1980s
Zenitar-M at work
Classically for retro, the lens is made in an aluminum frame, the so-called "monocyclic zebra", inherent in fifty dollars of the Soviet bloc 70-90 years.
Focusing
The minimum focusing distance is 45 centimeters, if anyone is interested. Not a macro, of course, but slightly less than that of the Helios-44M . The focusing ring is ribbed, it is possible to achieve a soft and smooth stroke if you replace the lubricant with a fresh one. Symptoms of dry grease are jerky movement of the ring, with uneven force. It's okay, in general, no, but it creates certain difficulties in constant work. The rotation of the ring is long, about 270 degrees, and objectively, a lens with such a ring is not suitable for dynamic scenes. Zenitar-M is a lens for unhurried work and calm, restrained models.
Diaphragm Zenitar-M
The lens diaphragm has 6 blades, the petals are metal, the diaphragm is made as a separate unit, does not require lubrication during normal operation. The petals are gray, controlled by a ratchet ring, have a drive that can be switched off by a switch on the body. It is noteworthy that on the basis of Zenitar-M lenses Zenitar-ME1 and ME-4 were created, which had electronics for transmitting the working aperture value to the camera.
The preset ring is absent in this model, and is replaced by a diaphragm pusher, for the type of exposure metering / focusing on an open aperture that was then in use. Switching the aperture values ​​takes place with noticeable effort even on a serviced lens, since the aperture ring retainer is simply placed in the recess of the body, without any damping mechanisms.
Focus and iris operation
Simple enough for modern cameras, and also not difficult on film cameras with a diaphragm pusher. It all comes down to the fact that you need to turn the aperture ring to the required value, aim at the object and press the shutter button. On-the-fly depth of field control does not have the adequate response required for, for example, video filming. Without a retainer, the ring becomes too light, and with a retainer (the same notorious ball), there is a significant effort, sound when switching, unnecessary shaking of the camera. We make a discount, after all, on the fact that the lens model was created for photography, and came into production more than 40 years ago.
Aberrations, bokeh Zenitar-M
Coating of the front lens is yellow-orange, the lens has a built-in light filter from the factory. Gives some "film" to the picture. If you are a champion of pure color consistency, then this lens is not for you. Zenitar-M behaves very interestingly when shooting high-contrast scenes. Comparing with Helios 44M, for example, it was found that the drop in contrast is not so critical, and the blue border in the transitions does not kill the image much. On the contrary, it looks quite natural for the technologies of the 70s. In practice, chromatic aberration is not detected at diaphragms of 2.8 and above.
Lens bokeh is smooth. Not so much, of course, to completely blur the background into shades of its constituent colors, but it quite allows you to focus on the necessary elements of the composition of the picture. The depth of field is shallow, as befits a fix. Focusing through the viewfinder of a digital camera, without a focusing lens or LiveView, adds a film-like effect to the picture. I used LiveView in all scenes. The lens can also be set at hyperfocal distance to shoot from the belly without looking through the viewfinder. But, this is for special occasions. We don't pay attention to people, but we look at the blurring of the background:
Unfortunately, during the test exit from the comfort zone, the weather in the world was disgusting, and it was not possible to fully test the operation of the lens with the same backlight and side light. When shooting in the studio, it turned out that the flash of a pulsed light source knocks out details on the face of the model. They, of course, are pulled out of RAW at times, but this only adds work, not eliminates it. It is worth keeping in mind a similar feature.
Due to the small number of aperture blades, at values ​​other than f / 1.7 and f / 2-2.8, nuts from light sources can be seen in the background.
Vignetting
Present. On 1.6 crop (Canon) it is absolutely no hassle. On a full frame camera, it disappears at f / 4 (blackout becomes even).
Sharpness, contrast, color
On an open aperture Zenitar-M gives a soft picture. Sharpness is not ringing, but the software is not so hard to consider an open aperture as a recommendation "to use a lens at an open aperture for artistic techniques". Quite a working diaphragm. Sharpness develops at f / 2 and peaks at f / 8. At the same time, Zenitar-M 50 / 1.7 has a sharpness in the center according to the TU USSR between Helios-44M-5 and Helios-44M-6.
The contrast is at a normal level, practically does not require editing during development. Drops when strong light hits the object. In general, as I understand it, shooting in reflected light with a pulsed source is a slightly specific requirement from this lens. The color is good, when developing RAW, the program does not go crazy, as, for example, with the same Helios. Zenitar-M MS has the best performance in working with reflected and parasitic light, due to improved enlightenment.
Zenitar-M advantages
Any serviceable Zenitar-M is now able to compete for picture quality with modern plastic autofocus competitors, both in price and in picture quality (in comparison with lenses in the lower price range).
The lack of autofocus and electronic aperture should not be confusing, because, for example, in portrait photography, electronics may not be used.
The relative cheapness of Zenitar-M gives a tangible advantage when choosing a lens for a novice amateur photographer. It is not difficult to find it, and unlike Helios, Zenitar-M 50 \ 1.7 has a smoother blur and a working aperture of 1.7.
Indestructible construction. The lens is not afraid of frost, temperature and humidity changes, falls. The metal case will not crack in case of an accidental impact, the absence of electronics will not let you down at the right time. It can be thrown in the forehead of the attacking villain, and then removed further.
The ability to use with almost any digital cameras , through the appropriate adapter. About adapters below.
A good choice for an aspiring portraitist. 50mm full frame, and 80mm equivalent at 1.6 crop.
The presence of a focusing range indicator and depth of field for calculating the hyperfocal distance will allow you to shoot without looking through the viewfinder.
Built-in anti-theft. Optics are not sold very quickly, and such optics can be sold for years. For a potential villain, this is "such a prey".
Using Zenitar-M 50 \ 1.7 on modern cameras
To work on digital cameras, you will need an adapter from the M42x1. The easiest way is to install Zenitar-M 50 \ 1.7 through an adapter on Canon EOS with EF and EF-s mounts. Chipless adapters are inexpensive. When buying an adapter for a lens, pay attention to whether your adapters are compatible for work with Zenitar-M 50 \ 1.7, whether they have a flange for blocking the jumping aperture mechanism. Despite the presence of a switch on the body, the adapter with a flange will save you from unnecessary hassle when the diaphragm spontaneously switches to the "auto" mode.
By ordering things from the links below, you help the project cover the costs of site maintenance and development. List of adapters, systems and mounts (direct links for ordering)
When ordering, it should be borne in mind that cheap adapters of poor quality with a lens on the Nikon F mount significantly spoil the picture. Adapters without a lens reduce the maximum focusing range (due to the difference in focal lengths). Adapters with chips come across of poor quality, exposure metering and confirmation of focus on some models of cameras may suffer from this.
Alternatives Zenitar-M 50 \ 1.7
The main probable application of Zenitar-M 50 \ 1.7 in photography is bust portraits. On cropped cameras like Canon EOS 1100D, EOS 60D, EOS 650D, EOS 1300D, EOS 300D, EOS 600D, etc. with an EF-s mount and a crop factor of 1.6 will have an equivalent focal length of 50×1.6 = 80mm. For video shooting with changing the depth of field "on the fly", as mentioned in the article, it is not quite suitable even after removing the aperture ring retainer.
The lenses below are a legacy of yesteryear that is still in use today.
Helios of various modifications have different optical characteristics and prices. Lenses with multilayer coating slightly exceed the cost of Zenitar-M 50 \ 1.7 and are quite common. Focal length 58mm, which is slightly longer than Zenitar and can be difficult when shooting in confined spaces. The background blur has a signature swirl.
Sharp, clear. Virtually no aberration, razor sharp from open aperture. Due to the shape of the aperture blades in the bokeh, stars are obtained from the glare. Cheap and common lens. Smooth focusing, jerk-free aperture adjustment, preset ring.
Rare, true German quality from the 60s-80s. With a perfectly circular 13-blade diaphragm, sleek design.
It is a good choice for leisurely shooting portraits with shallow depth of field, as well as artistic background blur. Has a more airy picture when open.
Examples of photos and videos on Zenitar-M
On Canon 7D: